We last discussed Intel's uber-mini Next Unit of Computing or NUC back in November, when Santa Clara first unveiled the $300 x86-powered system with a Core i3 processor and integrated HD 4000 graphics.
If you like the idea of small form factor computer, but want something with a little more horsepower than a Core i3 processor can muster, you might want to check out Gigabyte's NUC which packs significantly more punch than its predecessor.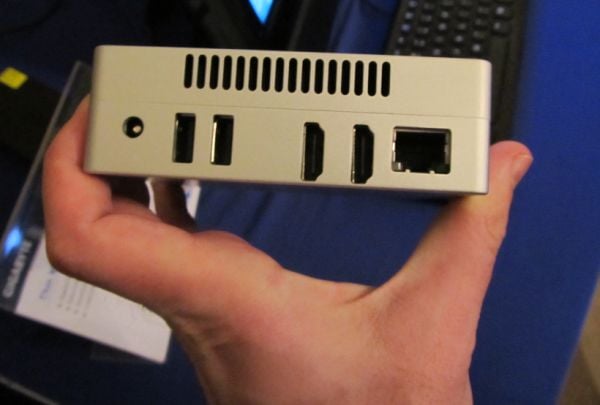 Indeed, Gigabyte's NUC is built around the same tiny 4″ x 4″ platform, but swaps the i3 chip for either a Core i5 or a Core i7 chip under the hood.
With a processor that's faster and more powerful, the machine generates more heat, so Gigabyte also modified the case accordingly, adding more exhaust vents, along with a USB 3.0 port, instead of Intel's USB 2.0 on the original NUC.
Additional Gigabyte specs include up to 8 GB of RAM, 256 GB of storage, an HDMI input and output, as well as an Ethernet jack and integrated Wi-Fi.
The product is currently classifed as a prototype, but we seriously hope Gigabyte chooses to put the machine into production ASAP.
Gigabyte isn't offering any details on exactly how much the final unit might cost, although the company does say that the system would be priced competitively.
However, it is probably safe to assume that a high-end and fully loaded version of the machine will cost significantly more than a basic starter version, so if you are looking for a uber-cheap HTPC, you may want to check out some of the Android-powered PCs-on-a-stick we've covered recently, like the S21H.