Companies wanting to get in on Microsoft's futuristic tabletop computer system can now put their orders in more a slightly more accessible price point than the tens of thousands of dollars it used to cost.
After years of Microsoft Surface being seen as more of a conceptual product than anything else, a widely available commercial Surface product is now available for pre-order.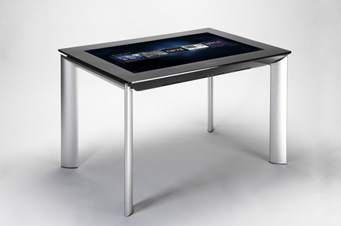 That product is officially known as the Samsung SUR40 For Microsoft Surface, and it is essentially a giant tablet.
For those unfamiliar with Surface, it's a touch-based Microsoft operating system that is mainly designed to be used as a "smart" table or countertop.
Surface, including the new SUR40 product, is geared to business customers. So for example, a restaurant could use it on its tables to allow customers to flip through virtual menus, place orders, and even scan their credit card information for payment.
Among the companies that are already interested in buying the SUR40 are Dassault Aviation, Fujifilm, and Royal Bank of Canada.
The actual hardware is made by Samsung, and will be available in 23 countries. They will begin shipping in early 2012.
There remains a question of how mind-blowing Surface is in today's environment. The original demos were displayed before the iPhone or iPad made multi-touch a common technology.
Nevertheless, Surface is obviously still distinct because of its large size. It also brings unique features to the table, like Microsoft's "PixelSense" technology, which "allows an LCD display to recognize fingers, hands, and objects placed on the screen."
The SUR40 carries a price of around $8,400.