The National Federation of the Blind (NFB) and Virginia Tech are developing a new car that can be driven safely by a blind person – and plan to demonstrate it on the famous Daytona International Speedway track next year.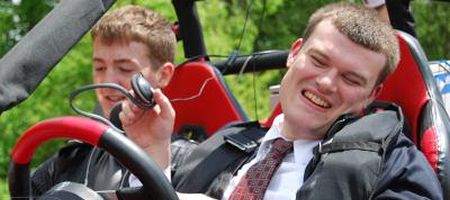 "Three years ago, we accepted the NFB Blind Driver Challenge to develop a vehicle that can be driven by a blind person," said Dr Dennis Hong, Director of the Robotics and Mechanisms Laboratory at Virginia Tech.
"The challenge was not the development of an autonomous vehicle that could drive a blind person around, but rather the creation of nonvisual interfaces that would allow a blind person to actually make driving decisions."
The team demonstrated its first-generation prototype, https://www.tgdaily.com/general-sciences-features/43264-car-lets-the-blind-take-the-wheel a modified dune buggy, last summer. The new version is a Ford Escape, which will be demonstrated at the 2011 Rolex 24 at Daytona on January 29.
The car will be controlled through a number of non-visual interfaces. For example, sensors transmit information about twists and turns in the road via vibrating gloves.
Another technique uses puffs of compressed air from behind the wheel to alert the driver to the objects around the car, such as other vehicles or obstructions in the road.
Other interfaces include a vibrating vest that gives feedback on speed, a click counter steering wheel with audio cues and spoken commands for feedback on the car's direction.
"we are not trying to build a technology alone. We are trying to build a technology that can be combined with an intellect to do things that neither could do alone," said Dr Marc Maurer, president of the National Federation of the Blind.
"This demonstration will break down the wall of stereotypes and misconceptions that prevent our full integration into society by showing the public that the blind have the same capacities as everyone else. Our only challenge is access to the information we need."