Apple may be developing an 'iMac Touch', a touchscreen machine that flips between touch and pen input – and the appropriate OSs – depending on the movements of the user.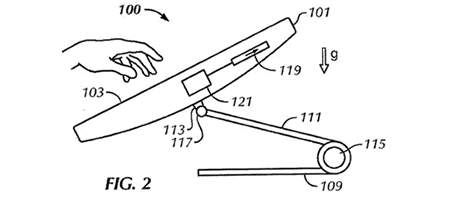 A patent filed in January and first revealed by the Patently Apple blog describes a way of shifting between the two as the orientation of the machine is altered.
"A change of orientation can be detected with one or more sensors, such as an accelerometer, position sensors, etc," reads the patent. "Transitioning from one mode to another can include modifying an item displayed in the UI of the one mode into a corresponding item displayed in the UI of the other mode."
In other words, the machine could flip between the iPad's iOS and the standard Mac OS dynamically, while the information displayed remains the same.



One illustration in the patent shows a machine which can physically be changed from a standard iMac to a tablet format, by swiveling the screen forward and laying it flat against the keyboard.
Information from sensors on the sides of the display and from the machine's accelerometer would detect when this was happening, and automatically switch from OS X to iOS accordingly.
"The rotation sensor can measure a rotation position of the stand, such as an angle between the base of the stand and a hinged arm that connects the base and the display. The measured rotation position can be used to determine the orientation of the display," the patent explains.
"In another example, the display can include touch sensor areas located where a user typically grasps the display to change the display's orientation. In this case, detection of touch in these areas could be used in addition to orientation information from one or more other sensors."



Apple currently offers 21.5-inch iMac and 27-inch versions of the iMac. That means that this technology could provide a simply enormous iPad-like device – albeit one that was tied to the desk.