A report from computer warranty firm Square Trade shows that Apple could only manage fourth place, behind Asus, Toshiba and Sony, in terms of laptop reliability. The research also shows that a third of all laptops are likely to fail within three years of purchase.
Netbooks are 20 percent more likely to fail than full-sized laptops according to Square Trade's analysis of 30,000 new machines covered by its warranty plans.
In the first three years of ownership, 31 percent of laptop owners reported a failure to Square Trade, 20.4 percent due to hardware malfunctions, and 10.6 percent as a result of accidental damage.
Netbooks were found to have a 20 percent higher failure rate from hardware malfunctions than more expensive laptop computers. But Square Trade adds that while netbooks appear to malfunction slightly more than laptops, the lack of data on netbooks over a year old means that the results are far from conclusive.
Asus and Toshiba were the most reliable manufacturers, with fewer than 16 percent having a hardware malfunction over 3 years.
Slightly over 10 percent of Apple MacBooks and MacBook Pros failed in some way, and the projected failure rate of Apple machines within three years was 17.4 percent. In comparison, Asus, Toshiba and Sony have projected three-year malfunction rates of 15.6 percent, 15.7 percent and 16.8 percent respectively.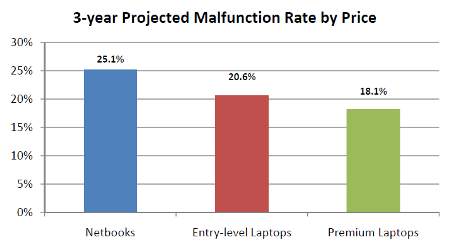 "It's not really surprising that Apple's in the middle of the pack," commented Vince Tseng, vice president of marketing at Square Trade. "What was surprising was that ASUS came out on top."
HP, which shifted more notebooks last year – 16 million according to IDC figures – than any other company, came in last out of nine manufacturers with a two-year failure rate over 15 percent and a three-year projected failure rate of 25.6 percent.

Gateway and Acer, the #2 maker of laptops, were also nearly as unreliable as HP, with an expected malfunction rate of over 23 percent.
See Also
Square Trade report