AMD has rolled out several Athlon II processors which are "fully optimized" for Windows 7. According to AMD spokesperson Brent Barry, the most recent additions to the Athlon II family will allow manufacturers to design a wide range of "sleek" desktop platforms, including all-in-one and small form factor PCs.
"Many households are investing in second and third PCs to perform specific roles for individual family members," Barry told TG Daily.
"As such, the full AMD Athlon II processor family now delivers high-performance, low-power dual-, triple- and quad-core processors to meet a [variety] of computing needs."
However, Barry emphasized that AMD remained "focused" on delivering a "real" PC experience across all of its platforms.
"Our goal is to provide an affordable and real PC experience for the user – which includes the accelerated delivery of HD video," said Barry. "That is why our Athlon II chips offer far better performance for significantly less money than our competitors."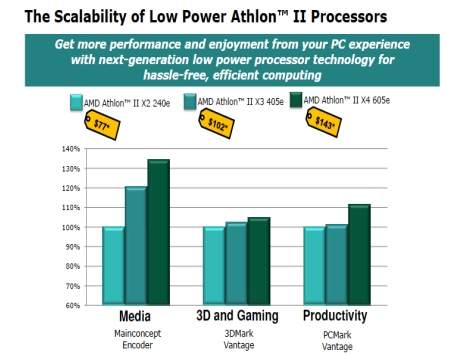 Barry claimed that the AMD Athlon II X2 240e processor performed "up to 70 percent better" in media and entertainment benchmarks – and offered savings of $400 compared to the Intel Core 2 Duo E7400.
Similarly, the AMD Athlon II X3 435 processor offers savings of over $1005 while providing up to 75 percent better media and entertainment performance in comparison to the Intel Core 2 Duo E8500.
Barry also noted that AMD was "well positioned" for the official debut of Windows 7.
"It was important for AMD to get in front of the pack for the release of Windows 7. We are well positioned for it, with acceleration and virtualization support. Our drivers are all ready to go. From a CPU and graphics standpoint, we have a better start than Intel does," stated Barry.
He added that Windows 7, unlike Vista, would likely encourage the sale of new PCs.
"Vista did not really help move PCs. But Windows 7 is the sweet spot and higher consumer confidence means much healthier sales this time around. It has the right mix of features and scales really well, from low-end to high-end machines."