Dozens of engineers who have gone missing in Mexico over the last few years have, it's claimed, been pressed into service by drugs cartels to build communications networks.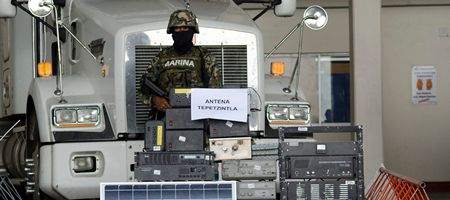 Mexican news site Animal Politico says drug gangs such as the Zetas use these networks to communicate securely and to hack into military radio systems.
The Mexican government's been working to take these systems down, most notably with the dismantling of a network discovered last year, with stations in Nuevo Leon, Tamaulipas and San Luis Potosi. It had 167 antennas and 155 relay stations, linking 1,450 radios, 1,300 cell phones, and 1,350 Nextel devices, all controlled by 70 computers.
"The antennas were installed on hills and in remote, high-altitude locations in the northeast of the country, sometimes in spots that could only be reached by a five days' walk. Some of them even ran on solar energy," reads the report.
But as fast as the networks are taken down, new ones are created. And to keep all this going, the cartels require engineers – which is where the kidnapping comes in.
Jose Antonio Robledo Fernandez, for example, was experienced in installing sophisticated communications systems but had the misfortune not to realize that the company he worked for was linked with the Zeta cartel. He was kidnapped in front of his girlfriend in 2009, and hasn't been seen again.
The same fate has befallen dozens of other technicians.
"The common denominator is that they are all between 20 and 40 years old, both men and women. Those who are engineers or systems technicians are put to work creating their communications networks, and those who are specialists in other areas are put to work elsewhere," says the father of one of the victims.
"But that is the hope, that they are still alive, that they have them working, telling them they must obey or die. We must search for them alive."
There's an English translation of the report, published by campaign group InsightCrime, here.