While most product recalls merely cause mild annoyance, occasionally one really is a matter of life and death. Unshocking news reaches us from Dutch Electronics giant Philips: it is recalling its HeartStart automated defibrillators due to a memory chip fault.
The company is recalling approximately 5,400 HeartStart FR2+ automated external defibrillators (AEDs) due to the possibility of a memory chip failure that may render the device inoperable. And this is one item of consumer electronics that you really want to work properly when you switch it on.
The HeartStart FR2+ defibrillators are used by trained responders and designated response teams to help treat sudden cardiac arrest. The device automatically analyzes the heart rhythm and determines whether a defibrillation shock is needed. If a shockable rhythm is detected, the FR2+ instructs the responder to deliver defibrillation therapy.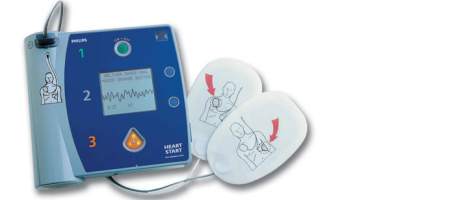 Philips has received reports of a memory chip failure in a small number of FR2+ units manufactured in 2007 and early 2008. The company is at pains to point out that these failures were detected during routine self-tests, not during emergency use of the AED. Failure of this chip could render the AED inoperable and prevent it from delivering therapy when indicated.
Philips says it has received no reports of injury associated with this chip failure, although any user experiencing a malfunction is unlikely to be in a position to call the customer complaint line.
The AEDs affected have been distributed globally to fire departments, emergency medical services, hospitals, and other organizations. Philips is contacting customers to arrange for the return and replacement of all the recalled AEDs by sending notification letters to distributors and users.
In addition, the company has set up a page on the Philips Web site with a serial number look-up tool to allow customers to find out if their FR2+ is part of this recall, as well as instructions on what to do if it is.
Only certain HeartStart FR2+ AEDs (models M3860A and M3861A, distributed by Philips; and models M3840A and M3841A, distributed by Laerdal Medical) manufactured between May 2007 and January 2008 are included in the voluntary recall. Philips has also notified the U.S. Food & Drug Administration (FDA) of its decision to voluntarily recall the affected product.