Analysis: Now that Apple's flagship phone is to be sold by Vodafone and Orange as well as O2, what benefits will UK users see? Ernest Doku of price comparison site Omio.com peers into his crystal ball…
The end of O2's iPhone exclusivity has great ramifications for the other networks, as both Orange and Vodafone have been struggling to find a handset that can compete on an equal footing, and to secure the must-have handset is a major coup.
Orange has all but confirmed a pre-Christmas release whilst Vodafone has admitted an early 2010 launch, all but counting themselves out of the inevitable price war that will ensue.
The Vodafone site now has a registration page up to inform consumers when the handset will be made available, with their announcement so closely to Orange's own a definite move to settle loyal customers that might have become restless as they watch the iPhone go mass-market.
However, 2010 is a long wait. It is difficult to say whether their as-yet unannounced pricing strategy and incentives be strong enough to keep the Vodafone faithful onside once the iPhone becomes a free-for-all. The phone itself will undoubtedly be the driving factor in the buying process, and the fact that they can now be presented with choice of upgrading to the iPhone on their current provider rather than defecting to another network will be a real panacea.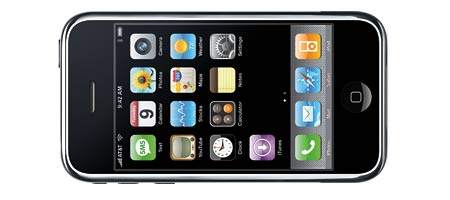 3G
The issue of 3G reception is a very valid one, as Orange's has been recognised as the furthest reaching off all networks, whilst O2's coverage has been patchy to the point that Ofcom has reprimanded them on it.
It is highly likely that Orange will relish this point of better reception and bring it to the public's attention when promoting the iPhone on their network, but whether it is enough of a determining factor for customers to choose them over another provider is debatable.
On the other hand, phones certainly serve as far more than a status symbol these days, and users want access to all the functionality that is promised to them with the iPhone. If mail, web browsing and GPS let users down when they need it most, a network change is not unthinkable.
What remains to be seen is whether a factor that consumers really care about, namely Orange's price point for the 3GS, will be competitive enough to force a price war between the networks, also whether O2 will refocus attention on promoting the newly acquired exclusive, the Palm Pre, to sway those customers on the fence about which smart phone to plump for.
Services
In terms of delivery of services, we have already seen the App Store is the perfect portal for network-specific content to the iPhone. With the 'My O2' app enabling customers to check their bills, switch bolt-ons and check the number of free minutes and texts remaining (when it works), it is a great proof of concept that the iPhone can be tailored to offer the content a particular carrier provides – without tampering with firmware.
Vodafone has already announced plans to bring their new '360' social networking service to the iPhone, so the handset is still a perfect facilitator of exclusive products and services – to an extent.
The networks will have to be fully prepared to set aside their own music or content download services in the face of something as all-encompassing, competitively priced and familiar to consumers as iTunes.
However, the unmatched popularity and subsequent sales of the 3G and 3GS, as well as vast amounts of data usage will more than offset potential lost revenues from downloadable content.