This year TG Daily has reviewed gadget after gadget in an attempt to deliver to you the best of the best this holiday season. We've compiled a list of the Top 20, and are giving you the opportunity to win awesome prizes by simply participating in a discussion about your favorite gadgets and gifts for the 2009 holiday season either below in the comments section or via the TG Daily Facebook Fan Page. After you've seen our report leave a comment in either location answering any or all of the questions below. Each individual answer will count as one entry in the drawing and winners will be chosen utilizing Random.org. The contest is open to US residents only. Winners will be chosen on December 31 so you have from now until then to enter and share this awesome gadget guide with your friends!
1. What gadget would you MOST like to receive this holiday season?
2. What was your favorite gadget of 2009?
3. What would you like to see improved upon in 2010?
4. Have you used any of the products in this gadget guide? If so, what were your feelings?
5. What gadgets do you think have recieved too much hype this holiday season?
So, check out which gadgets made our cut this holiday season.
The Top 20 Holiday Gadgets Reviewed
1. FreeAgent Theater+: The FreeAgent Theater+ is great for your media addict. I collect media from everywhere- iTunes, DivX, you name it I do it however nothing beats watching those downloaded movies on the big screen. There are many digital media adapters on the market capable of reading media from PCs for display on your home television. FreeAgent Theater+ by Seagate, pretty much knocks its competitors out of the water. Priced at $150 you can add a sleek FreeAgent Go drive (more $$) to the mix for easy slide in storage for your movies, music, photos, and more. The device also offers a USB port for the use of any other hard drive you might utilize.
I was a little disappointed that all of the features were not available, however it has been said that the device will be NetFlix compatible soon – meaning you can stream your watch instantly queue directly to your television through the use of a $70 wireless card from Seagate.
The device comes equipped with state of the art output options such as AV and component, HDMI. I've found this device is going to probably work best on newer television models- so if you have an older television you might require more equipment to properly run the device. Thus far it's proved a hit in my home, and would make a great gift for the media lover in your life.
2. Vodaphone Verizon's Droid Eris: The Droid Eris makes the perfect holiday gift for teens, and adults alike seeking a touch screen Smartphone at a low price- under $100. The design wouldn't give indication that you're dealing with a "cheap" phone, and it definitely doesn't conduct itself in that manner. With a 480×320 screen, the phone is compact yet packs a punch with its high resolution and ease of use.
The Droid Eris is a slim black phone with four touch controls: Home, Menu, Back, and Search) which are aligned horizontally under the screen above the Send, End and trackball. The one drawback to the phone is the lack of a QWERTY keyboard board, it was difficult to use at first, but it learns an individual's typing style quickly. The spacebar needs to be longer. The camera was a huge positive- 5 megapixels make for great high quality photos and the ability to Facebook, Tweet, and upload your photos to wherever you wish.
One thing found to be annoying was the inability for the device to auto connect to a local wireless network- I never could figure out the correct settings and it always forced me to manually connect when using the Wi-Fi Internet.
For some the lack of Bluetooth might be an issue- but for me I could honestly care less- that is until they move forward with no cell phones while driving in my state- until then the Eris is the perfect Smartphone for individuals who like the Android platform and would prefer a phone that is simple and easy to use.

3. WowWee Rovio: The Rovio WiFi-Enabled Mobile Webcam by WowWee allows you to see, speak, and even hear via the Internet from anywhere you might be. It connects to your computer either via a Peer to Peer wireless connection or via USB. Powered by TrueTrack navigation Rovio knows both where its home- the charging dock- and where its located. Equipped with a speaker, camera, and microphone it moves in virtually every direction allowing for a full view of anything and everything around your home. Battery powered- the device will run anywhere from 80 to 100 minutes after a 4 hour charge.
The Owner's Manual is extremely detailed covering everything from setup to use. The device emails the high quality photos. The Rovio program allows for the authentication of uses who are allowed to log in to the device to either administrate or control it- with different user settings.
The Rovio did have a few drawbacks such as the headlight- it doesn't actually allow one to navigate the device in the dark. You need a little extra knowledge regarding routers and server setups- so it's not for an end-user with little experience. I was disappointing in the cameras lack of movement settings it only goes low, mid level and then pointing nearly directly to the ceiling (ideally this could be corrected with a firmware update).
For the price, which is about $250 the device is great. It does much of what it claims. I was satisfied enough, and it's such a fun device for home surveillance such as checking in on the pets, watching the nanny- who probably just thinks it's a toy, and just having webcam fun in general. This is great for the tech gadget lover on your list.
4. Light For Life 5.11 Tactile Series: The Light For Life 5.11 Tactile Series flashlight is for, and looks like your standard police flashlight. However, it made the Top 20 because it requires absolutely no battery. Utilizing technology from some of the best hybrid car engineers the flashlight was manufactured.
The light is standard length for police- its 12" long. At its peak it has a 270 lumen output, and has a standard output of 90 lumens with a 270 lumen tactical strobe. When used in standard mode it will last for 60 minutes, then reduce itself to a lower, 25 lumen standby mode so that you can continue to utilize it for an extra 30 minutes. The standby mode still carries the equivalent of a standard household flashlight- so you won't be lacking. At peak output it will operate for 15 minutes and then reduce itself to the 25 lumen standby mode. The peak mode allows you to use the tactical strobe.
I was most impressed by the ability to recharge the flashlight in 90 seconds. This means you can charge it right before running out the door- no waiting around for your light.
With a rechargeable battery, this light, priced at $169.99 is well worth it, as it will last you forever- or at least over 50,000 charge cycles- meaning it could last up to 135 years if charged once a day.
5. InCharge X5 Universal Charging Station: The InCharge X5 Universal Charging Station is the perfect gift for individuals who keep multiple gadgets on hand. Capable of charging iPods, other MP3 players, PDAs, the Amazon Kindle, GPS devices and many other handheld items quickly and efficiently it makes the gadget geek's desk much more organized while charging each gadget from one power outlet. I was a little disappointed in the color choices- black and white- I think I would have preferred a wood or more natural tone but this works if you have modern décor. It's just not as versatile as it could be.
6. Targus Zip-Thru Mobile Elite Roller Laptop Case: When I first requested a bag from Targus I was seeking one which would hold a 17″ laptop case. They sent me the Zip-Thru Mobile Elite, which states its designed to hold a 15.6 inch screen. I was nervous when I first opened it up that I wouldn't be able to place my huge laptop so I instantly mentally wrote it off. But upon further inspection I realized that this bag was perfect. Not only did my 17″ laptop fit, but its the perfect travel bag for a meeting, or for every day use. The Mobile Elite is a rolling case, with a place for your laptop, files, and even clothing for a simple overnight trip. At $100 this gift will be perfect for the business traveler in your life.
7. Pelican 1020 Micro Case: This gadget gift is perfect for individuals in your life who live life on the "wild side"- rugged outdoor sports, water sports, camping and even those who work in industries like construction. Its the perfect gift for those with an active lifestyle. The Pelican 1020 Micro Case is dust proof, waterproof, and shatterproof meaning that it will work perfectly for rock climbing, kayaking, and anything else you might do which would put your gadgets in jeopardy. The cases are large enough to hold GPS units, cellphones, MP3 Players, PDAs, Smartphones, etc. yet small enough to throw in your bag and go. The cases come in multiple colors, the one I have is red. It can connect to your belt or bag using a carabineer.
8. Juice Bar Solar Charger: Charging electronics for many on the go is one of the most annoying things to have to deal with- yes, we have car chargers, we have the ability to hook up some phones to charge via our laptop computers but what happens when you are away from an electricity source?
Cirrus has given us the answer with their Juicebar Solar charger, which will allow you to charge your electronic devices without the use of electricity. This is one of the best items for the 2009 guide and I suggest everyone own one of these in 2010. The solar powered Juice Bar charger allows you to go and do all of the outdoor activities you enjoy such as camping, spending a day on the beach, hiking, and much more no more checking that suitcase for the car charger. In fact, you can probably completely do away with one- I know I have.
The Juice Bar Solar Charger is capable of generating enough energy to fully charge a cell phone twice, allows you to listen to 15 hours of music on an MP3 player, and also gives you the opportunity to charge your mobile gaming systems. Its small enough to throw into a carry-on bag, or a purse. Have no fear whenever you travel.

9. V-Moda Faze: Everyone has been looking this year to create iPhone compatible accessories. This one might be one of the best I have come across, as it works for Smartphones, MP3 players, and with its 2.5mm adapter this headphones/headset can even be used on your PC. The Faze headset is very similar to the original V-Moda Vibe, however you won't have to shell out the $120. Available at Best Buy this device will cost you a mere $39 and packs the clarity needed to effectively utilize the headset. I tested it on Skype via both my computer and my Motorola Droid phone and was impressed with the high quality sound. I was also clearly heard by listening parties. For someone who travels or needs the ability to work hands free on a consistent basis this is the perfect price point in the current economy.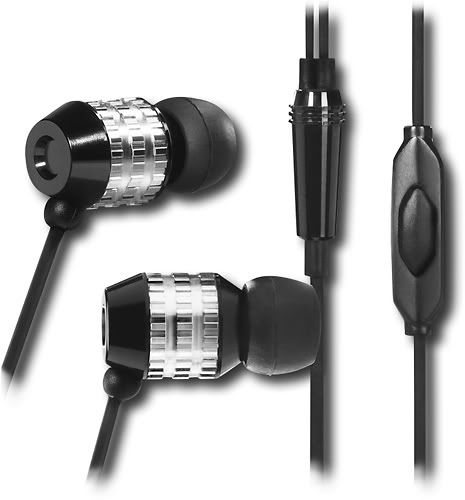 10. Epson Workforce 610 Printer: Working from a small office I'm constantly on the hunt for the highest quality, commercial grade products for the lowest price. The Epson WorkForce 610 all-in-one printer, priced currently at $199.99 with a $40 rebate instantly made a great addition to our office as an additional printer. It prints quickly, and is most definitely an inkjet printer which functions much like, and almost as quickly as a laser printer- printing at about 20 pages text per minute. The ink is low cost, and the interface is simple to use. I would not recommend this printer for photo printing, however- as it extremely slow but for document printing and color printing the device is perfect.
The printer larger than most all in ones, but unbelievably weighs only 18lbs, which makes moving it around simple and easy.
I was most impressed by the devices control panel- which is extremely user friendly. Navigation was simple; the 2.5 inch color LCD screen offers simple descriptions and directions on how to use the device. The panel can be adjusted so that you can see from multiple angles.
The printer contains a memory-card reader; two telephone ports, a USB 2.0 port, and an Ethernet port- though you can connect to the printer using a Wi-Fi connection.
Printing and copying allow for multiple options such as draft, image, text, standard and best modes.
This printer is great for a small home office, or small business with minimal photo printing needs.

Top 20 Holiday Gadgets Reviewed
11. HP Photosmart Premium TouchSmart Web All-in-One Printer: I typically don't like to choose two like items for a gadget guide, but in this instance it's necessary as this printer takes the cake on photo printing. And with a reasonable price of $399.99 and a $60.00 instant rebate this is perfect for the photographer, or photo enthusiast in your life. With direct web connectivity via a wireless or Ethernet connection it makes utilizing this great printer on a network simple
The newest Photosmart printer looks much different than the printers manufactured in the past. With its smooth edges, shiny and sleek black and silver finish and an awesome decorative design across the top the printer is equipped with a bright 4.33-inch touch screen panel.
The photo quality from this printer is absolutely outstanding I was extremely impressed and happy. The images printed looked professional, clean and clear.
The copying feature is great. I was however, unhappy with the scanner- without a feeding tray each piece of paper you wish to scan must be placed inside the scanner meaning you can't walk away from a large scan. It's quite annoying.
If you don't do an excessive amount of photo printing I would suggest passing on this printer and going for the Epson- the price just isn't worth it unless you are big on photo printing.
12. Parrot Minikit: The Parrot Minikit Chic is a car speakerphone with excellent voice quality for use in your home or car. The Minikit has a slim sleek design, and a simple clip which attaches the device to the sun visor of your car. While moving in a moving vehicle The Parrot Minikit Chic allows you to answer calls, hang up, it syncs your contact, you can voice dial, and scroll through your phones menu. The sound quality is great on either side. This is perfect for people who live in states which have demanded no use of cell phones, it's also great for protecting the safety of anyone whom you care about as they travel. Priced at $99.99 you'll get a lot of bang for your buck as this is one of the best car speakerphones I've found on the market.
13. Big Buck Hunter Pro TV Video Game from Jakks Pacific: As a self admitted adult 7 year old I found Big Buck Hunter Pro ($59.99) from Jakks Pacific to be an awesome game. The game, which is rated Teen by the ESRB isn't really malicious, and I'd actually consider it fine for anyone who understands that we "eat what we kill"- all of that aside this game took me back to days of Nintendo's original Duck Hunt.
Buck Hunter is the at home version of the arcade/bar game you might have run into. The home version gives you a rifle and a shot sensor which is placed above your television. The device take four double-A batteries and three triple-A batteries, which you'll want to make sure and purchase before placing this game under the tree.
Installation isn't tough, if you're using a larger tube television- as the smaller flat screens have trouble holding the sensor. However, if you're crafty enough you can definitely rig the device to your flat screens (I know, I did it).
One issue I noticed was a difficulty getting the rifles sight to be viewable on the bottom of the television screen- when the gun was pointed at the top of the screen it was no issue, however when it was needed to shoot something close to the bottom there were some issues.
14. Cinemin Swivel: The Cinemin Swivel brought to us by Wowwee, the same company who produced the Rovio Webcam, allows you to project movies from your iPod or iPhone onto a wall. The Cinemin Swivel is small, compact and easy to carry around thus letting you share your media wherever you go. The front face swivels up to 90 degrees allowing you to project your flicks on a ceiling, a wall, and potentially even a tent if you're out camping. The Cinemin Swivel is great for movies, and if you have a Mac however it's not yet compatible with anything else meaning you couldn't utilize it for projecting presentations on the go or otherwise.
The Cinemin Swivel delivers an excellent picture quality for the device size- it can be stretched to 60 inches which isn't really big when you consider the size of the majority of living room televisions these days. A negative to the device is the battery life- lasting only two hours getting through an entire movie is stretching it and a recharge is going to take you about 180 minutes. It's a great product but needs work and improvement. However, for the movie enthusiast and iPod buff it might be just what you've been looking for.
Priced at about $300 it does lack functionality but it can be great for video business presentations, in the classroom for a teacher (short films and recorded lessons) and otherwise.
15. CarMD: CarMD is a device which plugs into any car 1996 or newer via On-Board Diagnostics. The unit is equipped with three lights: Green- which means everything is fine, Yellow meaning you might have a problem, and red indicating you've got a problem.
Within six seconds of plugging the device in codes are read from your cars computer (if your check engine light is on and there is a problem). Once you've unplugged the unit from your car you connect it to your PC using the provided USB cable and utilize the web service which will diagnose your error code and give you an idea of what is more than likely wrong with your car based on the CarMD database which is the same one utilized by most car service centers. CarMD will give you a concept as to how much you'll be spending on your repair.
CarMD will allow you to register three cars with your device- and this is only necessary when a problem is detected. CarMD also has a limit as to how many times (3 each month) you can go online to decipher new error codes.
One of the best features of the product is that its small and portable, therefore if you have an issue while traveling you can diagnose, and call CarMD who keeps on staff ASE certified mechanics who will take your information regarding your vehicle and the CarMD codes over the phone to give you a concept of what the problem might be and what you're looking at regarding repair costs. So, for the car enthusiasts in your house or family, or a child away at college this is a great gift.

16. Memeo Share: Memeo has developed an incredible new sync feature to add to its product line of many, called Memeo Share designed for broadcast-like photo sharing creating a virtual photo storage social network in which you sync your photographs and share them with a circle of friends or family members who wish to receive videos and photos instantaneously as you upload them. The files can be placed in a specific sharing folder, or you can set up the software so that it is capable of recognizing the instant you plug in your camera so it can be automatically upload files to the Memeo server. The list price is $248, however Memeo currently has a holiday special and you'll receive an awesome 8inch photo frame which allows you to display your photos stored on your Memeo.
17. DJay 3: DJay 3 is awesome virtual DJ software which allows Mac and ITunes fans to experiment with mixing and dubbing, this software includes items such as Automatic Tempo & Beat Detection, Auto-Cut Scratching and allows you to truly be the DJ of your own party, using your own playlist. With this software anyone can be a DJ. Its available both on the company website and at Apple for $49.95.
18. My Secret Circle: I don't personally have children, but the instant that I saw this product I knew its an amazing step for social networking and for child safety on the internet. This product gives young girls the ability to social network safely and securely. Here is what the company had to say:
At Senario, we constantly strive to create innovative entertainment products that are relevant to today's youth market. We realize the internet has changed the way children play, learn, communicate and socialize with one another. With that, we also realize that certain online game and social network sites have threatened our children's safety. That's why we created My Secret Circle™.
What is My Secret Circle™?
My Secret Circle™ is the first-ever secure social networking world designed for girls 8-12 and their internet-cautious parents.
Invisible to the online world, My Secret Circle™ let's younger girls create perfectly private communities with friends, while avoiding the advertising and strangers present on other social networking sites.
Within the My Secret Circle™ world, your child can create their social circles. The My Secret Circle Access Key give your child access to journal, instant message, play games and photo share. Your child can also have access to unlimited online voice-chat with the My Secret Circle Voice-Chat Headset™.
How is My Secret Circle™ secure?
My Secret Circle is secure in two ways:
1. Utilizing proprietary technology, the My Secret Circle Access Key™ contains an embedded code that is recognized by My Secret Circle's™ private browser when connected to your computer. Because this unique code is located in a hardware solution; no personal information, registration or login is ever needed—and no one from the outside world can seek your child out.
Also while entered into the My Secret Circle world— the internet navigation bar is completely stripped away—meaning your child can never navigate outside of the circle to other websites.
2. My Secret Circle™ users must invite and exchange unique charms codes with real-life friends. My Secret Circle Friend Code™ Generator generates a unique 12 digit number. This number (Friend Code) must be exchanged through our invitation system.
The invitation system allows your child to print out her Friend Code and create an envelope to trade her Friend Code in person with a real friend of her choice. In order to become "friends," each girl must own a My Secret Circle Access Key™ and each girl must exchange a Friend Code. Once your child has exchanged a 12 digit number (Friend Code) with her friend, she must upload it into the "Friend Section" of the My Secret Circle. After inputting this code you will see that your real-life friend has been accepted to access your secret circle.
The 12 digit number (Friend Code) is only good for one time use for one friend. It can never be reused by other non-approved friends. Anytime your child would like to add another "friend" to her circle, she must generate a new Friend Code, and her friend must own the access key.
Unlike other social network or gaming site, you—as a parent—can know who your child is communicating with at all times.
Are there any additional subscriptions or fees required?
My Secret Circle Access Keys and My Secret Circle Voice-Chat Head sets are purchased at most major retail stores. No personal information, additional subscriptions, or additional fees are ever required.

19. Targus Universal Adapter: As someone who travels often and is always on the go this is the perfect solution for typing while riding, or flying. It works with all laptops. This product gave me no issues, its lightweight and easy to use. This one is perfect for the business traveler on your list. At $149, its well worth the ability to always be able to capitalize on time.
20. Tria Laser Hair Removal: This is probably going to fall under the majority of our readers "gifts for the wife" but- I promise if you deliver this piece of technology this year everyone will benefit. If you've ever heard your wife complain about waxing, shaving, or if you hate the hair on your back or arms you too might appreciate never shaving again. This year, the TRIA Hair Laser might just belong under your tree.
TRIA targets your hairs growth beneath the skin and the diode laser reacts with the dark pigment of your hair shaft so as to not damage, harm or injure your skin. Long term use of this product will deliver smooth, silky skin that doesn't require the typical maintenance of conventional hair removal methods.
TRIA is a simple to use laser hair removal system which delivers three levels of intensity appropriate for your body. When the TRIA at home laser is applied to your skin it lets off short light pulses through an output window attacking multiple hair follicles simultaneously. When the area you are working on is complete the device beeps letting you know to move to the next spot.
The TRIA is safe, equipped with three contact sensors which touch the skin; if all do not the device will not emit a pulse of light.
The price paid up front, which is around $800, will allow for extensive savings in the long run.
Other Gadgets You Might Enjoy
Apricorn Aegis Hard Drive- Agis Padlock: PIN Access, Hardware Encrypted Portable Hard Drive with your choice of 128-bit or 256-bit AES Encryption
Ultimate Ears 700: The Ultimate Ears 700 earphones feature 2 custom-tuned speakers in each ear. As with cars, more engine means more power and 2 high-fidelity speakers in each ear provide listeners with a cleaner, more precise and powerful audio reproduction.
HP Family Multimedia Hub: The HP TouchSmart 300 combines the latest touch innovations and advanced features in an all-in-one design to redefine what touch can do for you. With DVD and TV capabilities and built-for-touch applications like the TouchSmart Recipe Box, Hulu Desktop, Twitter, Netflix, Pandora Internet Radio and the HP Music Store powered by Rhapsody, it's easier (and more fun!) than ever for the family to stay connected to the things they love. Starts at $799.
Trendsetting Mini Companion: Make a statement with the HP Mini 110 by Studio Tord Boontje. This pearl white companion PC, created in collaboration with critical acclaimed Dutch designer Tord Boontje, features an intricate pattern of plants and animals. HP Imprint 3D technology makes the art appear to float. Weighing just over 2.5 pounds, measuring about one-inch thin and featuring a 10.1 mercury-free LED display, it's the ideal travel companion, and small enough to fit in a purse or carry-on bag. Starts at $399.
Thin, Light and Affordable: Keep everything you need at your fingertips with the HP Pavilion dm3. This thin and light notebook provides the ultimate balance of style, mobility and performance at a price that won't break a budget. The sleek aluminum body measures less than one inch thin and weights just over 4 pounds. The dm3 boasts an HD BrightView 13.3-inch diagonal LED screen and choice of AMD or Intel processors and discrete graphics to meet the multimedia needs of demanding consumers. Plus, with up to 10 hours of battery life, you'll truly have the freedom to move without being chained to a power outlet. Starts at $549.
Premium Design and Performance: Give yourself the gift that will make you the Envy of your friends. The HP Envy 15 is a fusion of design and performance with a laser-etched metal pattern on the lid and palmrest and a quad-core processor for even the most creative and demanding user. The magnesium alloy casing provides lightweight durability in a 1-inch thin, 5.18-pound package. The optional slice battery provides an uninterrupted work and entertainment experience of more than 7 hours. This notebook PC is easy to show off. Starts at $1799.
Multimedia Snacking: Spread photos, music and video to new areas of your home. The HP DreamScreen, a companion to the PC, connects easily to your wireless or wired network, giving it access to relevant web information, social media and digital entertainment saved on your home PC. Use it in the living room, kitchen or bedroom to keep up-to-date with Facebook friends and photos, listen to Pandora Internet radio, share Snapfish photos and stream favorite music or pictures. Available in a 10.2 inch size for $249 or a 13.3 inch size for $299.
Essential Stocking Stuffers
Make a statement with your mouse. The HP Wireless Comfort Mouse is available in black espresso moonlight white, or a special women's limited edition mouse with Water Lily, Jasmine and Orchid designs. Starts at $39.99.

Never lose your precious memories. The HP Simple Save Hard Drive automatically locates and backs up all the files on your PC in minutes. Starts at $119.
SanDisk Ultra Backup USB Flash Drive: Ideal for stockings or tied with a bow, the new SanDisk Ultra Backup USB flash drive makes a smart gift this year. The SanDisk Ultra Backup is the world's first USB flash drive to feature backup at the touch of a button. Just plug the stylish drive into any PC and press the "backup" button to instantly save critical work, mp3s, photos and videos – no wires or software install. The SanDisk Ultra Backup is available in capacities from 8GB to 64GB, but it's still small enough to fit on a key ring. Plus, you can stay worry-free with a five-year limited warranty.
Poken Pulse: Just released in September, this hip and practical social media gadget is a "digital business card" that exchanges traditional contact information, as well as social networks, such as Facebook, Twitter, Skype, Flickr and more — plus it includes a 2 GB USB flash drive. Using wireless technology, two people can exchange contact info by tapping their Pokens together. Then, insert the Poken's USB connector into any computer with web access to easily upload new contacts — up to hundreds at a time.
FOTOBOXTM Plus: a USB device solution that enables the creation of rich multimedia slideshows from photos and videos.
IronKey: The IronKey is ideal for folks who want to keep their personal and professional information secure while on the move. As the world's most secure USB flash drive, IronKey has military-grade, always-on encryption, password management and a waterproof and tamperproof design that allows individuals to securely carry their digital lives with them, and remain confident that their information is secure even if the device is lost or stolen. With a Firefox browser built into the device, anyone can have a secure way to surf the web even if they are in a public place like a coffee shop or an airport.
YoGen: Set for formal launch at the Consumer Electronics Show in January, YoGen is now available for purchase on-line through www.yogenstore.com and will appear on retail shelves across the United States during second quarter 2010. With a suggested retail price of $39.99, YoGen features an unmatched capacity to recharge any small to mid-size personal electronics device by offering the industry's leading ratio of energy output to input. Through the application of a hand-operated ripcord, similar to the motion of a yo-yo, YoGen is perfect for recharging everything from mobile phones and iPods to Game Boys and cameras. With YoGen, electronics will not fail due to low battery. Thanks to the genius of Easy Energy, the producers of YoGen, people can stay safe and connected, at all times.
Lexar JumpDrive USB: Standard Lexar JumpDrive USB flash drives provide high-capacity storage in a range of styles, complete with lots of cool, innovative features. Standard drives are an affordable, convenient way to easily store and transfer files, photos, music, and more. Also useful for backing up important files as an external drive. Perfect for students, travelers, or those who want to share/carry photos, video, or music. Prices vary from $14.99 to $129.99 depending on capacity.

PowerGenix: Well, batteries are the workhorses of the holiday season (it's when 40% of all batteries are sold), but often go unnoticed until their power runs out, bringing playtime to a screeching halt. And across the spectrum, from Tickle Me Elmo to a GPS device, you'll be hard-pressed to find someone this holiday season who couldn't benefit from these powerful yet eco-friendly:
1. More power: Nickel-Zinc (NiZn) rechargeable batteries can do the work of their one-time use counterparts (charging quickly and even outperforming throw-aways in the most demanding portable electronics)
2. Ease-of-use: The batteries charge quickly (fully charged and ready to go in under two and a half hours) and there's no performance sag
3. $$$ and environmental savings: Rechargeables reduce harmful waste and save money in the long run (and Nickel-Zinc's near 100% recyclability means almost no landfill waste when they're finally through)
Hitachi GST's SimpleTOUGH: It is one of the world's most rugged drives for protecting your electronic data in harsh environments and can take on more falls, knocks and spills than any average external drive on the market.
Nanovor: One of Wizard Entertainment's 2009 Holiday Hot Dozen toy picks, Nanovor, is addressing kids' love of tech and science with the release of the first-ever connected play experience. Nanovor is a digital battling monster game with a rich fictional story rooted in science—the game's protagonist, Lucas Nelson is a high school science wiz and the personification of 'Hip to be Square.' Nanovor brings the first-ever hybrid gaming platform that bridges the gap between online digital entertainment and the offline play of classic table top games. The Nanoscope, the most high-tech product in the toy aisle this season, takes the battle offline so kids can play face-to-face anywhere – on the bus, at school and at home. Kids simply download their monsters onto the device and go—just like their iPod and iTunes account.
Wi-Fire: The Wi-Fire multiplies the effectiveness of any 802.11 b/g wireless networks and eliminates those nasty dead spots that plague users. It allows users to connect to a WiFi network from up to 1,000 feet. Independent testing has shown the Wi-Fire outperforms 802.11n adapters at distance; delivering greater throughput and a more stable connection.
Discovery 975 Bluetooth headset: ($129) was designed to be sleek and stylish. It allows you to stay connected on the go without sticking an obtrusive gadget to your face.
Chinon Ipod Docking Station: The perfect holiday gift for is here and it's under $200. Chinon just launched the AVi, the industry's first portable iPod™ speaker system/dock with a built-in LCD monitor and digital TV tuner and it retails for under $200!
Motorola Debut i856: which is Boost's first walkie-talkie slider phone. As you also know, Boost Mobile phones make a great last minute gift as you can purchase the handset with free shipping on boostmobile.com and all of our phones come with no contract – which actually makes it a gift!
Jupiter Jack: Plug the device into the headphone jack of your phone, tune your radio onto 99.3 FM and the voice of the person whom you are speaking with will be amplified through your speakers. Jupiter Jack transmits quality sounds through the speakers in your car so instead of hearing music, you hear the other person. Now you'll enjoy the clear robust sound that only your car speakers can provide so you can safely talk and drive at the same time.
Bliptronic 5000 LED Synthesizer: At once a minimalist musical plaything and a hardcore old-skool synthesizer, the Bliptronic defies categorization as it belts out 8-Bit style tunes from its grid of glowing buttons.d that only your car speakers can provide so you can safely talk and drive at the same time.
Electronic Guitar Shirt: Turn up the volume to 11 and rock out as you walk down the streets of LA. The shirt features an actual all of the major chords of a guitar and even a mini amp. Furthermore, the amp also features an audio out port so people can plug the shirt into larger speakers.
Slide Rule: ThinkGeek has re-created the classic student slide rule in a last homage to all that is good and geeky. The Slide Rule is a faithful replica of the original rules used during the 50s and 60s. All the standard scales and calculations work just as well as they did fifty years ago with no batteries required.
The Flipside Wallet: takes elements of the traditional 'bi-fold' wallet and advances them to address modern concerns over security, durability and functionality.
The Flipside protects Radio Frequency Identification (RFID) smartcards—credit and debit cards embedded with a microchip, allowing one to pay for merchandise by waving the card pass a sensor at checkout. Electromagnetic shielding material is used to block credit/ID cards from being scanned without your knowledge, also known as RFID Theft. The Flipside also locks shut, preventing cash, cards, and receipts from falling or sliding out.
GeoBulb III: LED lighting specialists, C. Crane Company recently introduced GeoBulb® III, one of the first high light output, direct-replacement LED light bulb that uses just 7 Watts of power to produce about as much light as a 60-watt incandescent bulb. This LED bulb uses almost half the energy of a compact fluorescent bulb (CFL) and unlike CFLs, does not contain hazardous mercury or lead.
While the current price is $99, the GeoBulb® III, with a rated life of 50,000 hours is much less expensive to purchase and operate than the equivalent in traditional incandescent bulbs.
AverTVHD Volar Max: The AVerTVHD Volar MAX is a pure HD PC-TV USB tuner for both Macs and PCs. About the size of a USB memory stick, the AVerTVHD Volar MAX is an ideal solution for viewing High Definition TV on a personal computer. The device allows users to enjoy superior TV entertainment at home, in the office or on the road.

Great Gifts You Can Win and How You Can Win Them
TG Daily is giving you the opportunity to win awesome prizes by simply participating in a discussion about your favorite gadgets and gifts for the 2009 holiday season either below in the comments section or via the TG Daily Facebook Fan Page. After you've seen our report leave a comment in either location answering any or all of the questions below. Each individual answer will count as one entry in the drawing and winners will be chosen utilizing Random.org. The contest is open to US residents only. Winners will be chosen on December 31 so you have from now until then to enter and share this awesome gadget guide with your friends!
1. What gadget would you MOST like to receive this holiday season?
2. What was your favorite gadget of 2009?
3. What would you like to see improved upon in 2010?
4. Have you used any of the products in this gadget guide? If so, what were your feelings?
5. What gadgets do you think have recieved too much hype this holiday season?
Prizes
Discovery 975 Bluetooth headset
Motorola Debut i856
GeoBulb III
V-Moda Faze
Jupiter Jack
FreeAgent Theater+
Chinon Ipod Docking Station
Bliptronic 5000 LED Synthesizer
Electronic Guitar Shirt
Slide Rule
Wi-Fire
Nanovor
PowerGenix
Targus Zip-Thru Mobile Elite Roller Laptop Case
AverTVHD Volar Max
Memeo Share
Light For Life 5.11 Tactile Series
FOTOBOXTM Plus
Parrot Minikit
YoGen
Poken Pulse
Epson Workforce 610 Printer
SanDisk Ultra Backup USB Flash Drive
My Secret Circle
DJay 3
What are you waiting for? Leave your comments here or head to the Facebook Fan Page!