Developers who can't decide between creating an app for Android and creating an app for Playbook don't need to worry anymore.
Confirming speculation that Research in Motion's new tablet would be able to run Android apps with only a minor tweaking, RIM president Mike Lazaridis announced on Friday an easy way to port over anything written for Google's mobile OS to the Playbook.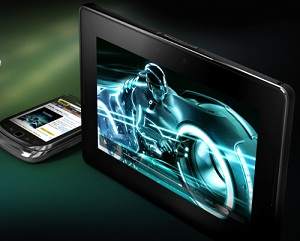 "The upcoming addition of BlackBerry Java and Android apps for the BlackBerry PlayBook on BlackBerry App World will provide our users with an even greater choice of apps and will also showcase the versatility of the platform," Lazaridis said in a statement.
This means there is a potential catalog out of the gate of more than 200,000 apps for the Playbook, a move that will make consumers focused more on the hardware than the difference in app availability.
RIM reportedly placed an order for a million units of the Playbook from its overseas manufacturing partners in January.
It's going to be a very important product for RIM. The company has been literally bleeding out subscribers. Even though it still remains the #1 smartphone platform in the US, that lead is diminishing very quickly.
The Playbook is seen by many as the company's last chance to stay on top before it's completely gobbled up by Android or the iPhone, but it has a lot of competition. In addition to the iPad which is its direct competitor, Samsung's Galaxy Tab is making waves, and Motorola's Xoom tablet – which will also be 4G-capable – is catching a lot of attention.
RIM's last move to compete against the new mobile giants was a huge failure. The Blackberry Torch, the first to include RIM's brand new Blackberry operating system, was seen as nothing more than a minor incremental upgrade to the increasingly-dated Blackberry software. For Playbook, it's a completely new, from-the-ground-up operating system.