The smartphone market is extraordinarily competitive. Apple and Samsung are the two major players, especially in the premium smartphone segment. Given this intense rivalry, who is winning? The iPhone had a head start in the smartphone market originally, but now that things have settled and the market has matured, are people staying with the iPhone or leaving and moving to Samsung? To fully understand this, we'll take a look a a number of different factors, including customer satisfaction, the reasons people leave the iPhone, how easy it is to switch and the impact on sales of product cycles.
Why do people leave the iPhone and move to Samsung?
If you talk to people who have decided to make the switch away from the iPhone, there are some common reasons that crop up again and again.
. All of the Apple phones are firmly priced in the premium segment, which means there are few budget options available to people who may not want to spend a few week's wages on a new phone. Samsung does compete with similarly priced premium phones, but they also have a greater selection of budget models available too.
Customizability – some users want to have greater control over their phone and how they use it. The Android operating system used by Samsung offers significantly more opportunities for changing the interface, and installing their own software, whereas the iPhone is much more locked down.
Storage – one of the biggest complaints with the on the phone is fixed, so you only get whatever was on the phone at the time of purchase. With Samsung phones, there is an expandable SD card slot so you can add your own memory card. If you have lots of music, photos and videos, this is a huge advantage.
Screen size – Samsung were one of the first companies to move to much bigger screens for their smartphones. Apple have increased the size of their screens too in response to market trends, but if you want very large screens then you will find more options with Samsung.
What are the reasons people stay with the iPhone?
Software updates. A big advantage of iOS is that the software is updated for longer than most Samsung or Android phones. Users can expect better lifetime support for their device, often up to five years. In contrast, Samsung has not kept their older phones up to date.
Customer support. Many people enjoy the ease of walking into an Apple store and getting their devices fixed on the spot.
One important factor is how easy it is to switch between platforms today. Since more and more of our data has moved into the cloud, it becomes much simpler to sign into a new phone and have your contacts, photos and music transfer across without much fuss. Samsung offer their own which makes it very simple to grab all of your data from your iPhone and get up and running.
Despite the intense rivalry, the latest customer satisfaction ratings for Apple and Samsung are almost identical. For both companies, their customers are extremely happy with the quality and functionality of their products, as shown by the 2018 JD Power survey where the scores were extremely close (840 for Apple versus 839 for Samsung).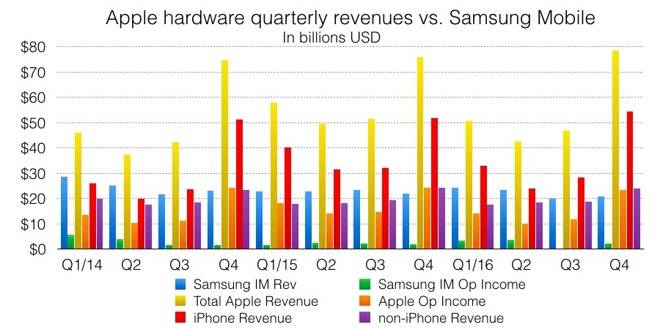 When looking at sales figures comparing Apple and Samsung, it's important to remember that their product cycles are very different. In fact, they are often completely out of sync. This means that when the new iPhone comes out, it has very high sales for a few months. Six months later, a new Samsung smartphone is released and benefits from increased sales. Neither phone is directly competing against the other at the same time. This means you often see headlines declaring one company the winner for that particular quarter, but it is longer term year-on-year trends that matter.
Towards the end of 2016, it was clear to see that Samsung had lost sales due to the recall of the Note 7 phone, which had problems with the battery catching fire. There was a drop in Samsung's smartphone shipments at the end of the year. It seems many people bought an iPhone because they were left with no other option. However, sales figures for 2017 show Samsung making a strong recovery and not suffering long-term damage from the incident.
What do the latest sales figures show? For the first quarter of 2017, Samsung shipped 79 million handsets to give them a market share of 22.8%. Apple, in comparison, shipped 52 million units for a share of 14.9%. When you look at the entire year of 2016, Samsung had sales of 311 million phones and Apple sold 215 million.
What does this mean? In the overall market, Samsung is performing very well. With the increasing quality of lower-end and mid-range smartphones, they have a number of models showing high sales. However, in the premium segment, the iPhone is still a top performer in terms of sales and profits. As the market matures, Samsung has benefited from people who are buying a smartphone for the first time, but it seems that people are not leaving the iPhone just yet. Given how competitive this market is, and things can change so quickly, the future may look very different for both companies.