Chicago (IL) – If
you have been counting days until Easter for the arrival of the Android G2 smartphone,
add two more weeks to your calendar since HTC and Vodafone will delay the
handset until May. The move eliminates G2's early advantage,
forcing it to compete with Nokia, Palm, Apple, which
plan on unveiling their next-gen smartphones in May and June.
Samsung also announced it would enter the Android game with three
Android phones this year, two of which will hit U.S. stores.
SLIDESHOW:
Android G2 (HTC's Magic handset)
(8 pictures)
According to a Pocket-lint post, the second Android cellphone won't arrive in time for Easter after all, as previously reported. Vodafone sales staff apparently confirmed that G2 is pushed back to May 1, citing a "last minute hardware change," indirectly
pointing the finger at Taiwan-based High Tech Computing (HTC), which makes the handset. HTC contributes to nearly 80% of
all global output of Windows Mobile smartphones. Unlike the first
Android smartphone (HTC Dream or G1) exclusively carried by T-Mobile, the G2 device was given to Vodafone.
The
carrier promised to initially launch the G2 in the UK, Spain, Germany,
France and Italy on a non-exclusive basis, with more countries to
follow soon thereafter. Vodafone will most likely offer the G2 to U.S.
customers through its Verizon joint-venture. In the meantime, T-Mobile
also plans more Android devices, including a home phone and a tablet computer scheduled for a 2010 release. In addition, South Korea's Samsung told Forbes last week that it plans to market three Android smartphones this year, two of which will go to U.S. carriers.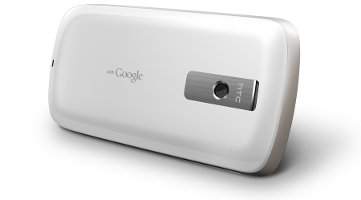 POWERED BY GOOGLE, BRANDED BY VODAFONE
HTC Magic, also known as Android G2, will be powered by the latest version of Google's Android operating system for cellphones. The phone will be exclusively carried by Vodafone and likely offered in the U.S. through its joint-venture with Verizon.
"Cupcake update" still on schedule
The G2 delay should not affect arrival of the first major Android firmware update scheduled around Easter. Dubbed "cupcake update",
it will deliver features like a virtual keyboard (first-ever for
Android) with auto-correct and suggestions, animated orientation
changes, a voice recorder, video recording capability, support for
stereo Bluetooth, the ability to save MMS attachments and other tweaks.
The updated Android OS should be compatible with both existing Android
G1 smartphones and upcoming second-generation models. MobileCrunch has screenshots and videos taken from the latest beta firmware build demoed at last week's CTIA 2009.

Bad launch timing
The G2 launch delay will force HTC and Vodafone to compete for attention with Nokia's N97 and Palm's Pre, which are slated
for a May and June release, respectively. Both phones are viewed as serious iPhone
challengers. The fact that Apple will take the wraps off the next-gen
iPhone at its developers conference in mid-June isn't helping either.
The iPhone maker reportedly has major hardware changes in
store for the next iPhone that should help Apple grab an additional
chunk of the smartphone market and leapfrog the capabilities of Nintendo's
DS and Sony's PSP in the mobile gaming arena. As of last month, the
latter two consoles have sold a combined 150 million units to date,
compared with 30 million iPhone and iPod touch units shipped between
June 2007 and December 2008.
Multiple battlefronts
Apple's
rivals bet that coinciding launches could help draw the general attention to iPhone alternatives. Samsung
played this card with last year's launch of Instinct, which eventually
faded due to the iPhone 3G buzz. This time around, however, the number of
iPhone challengers has multiplied.
While
various iPhone-killers may not be there yet, but a plethora of upcoming
Android and Windows Mobile phones is increasing their footprint in the market. As a result of this pressure, Apple will be soon forced to wage
battles on multiple fronts. The guy who blinks first may lose it all.
ONE STEP AT A TIME
The arrival of G2, in addition to three Android phones that Samsung promised for 2009, will help expand Android's footprint and grow installed base. This, in turn, should positively impact the support from developers who will have more incentive to make applications for the Android platform.