Ruediger Frank is a Professor of East Asian Economy and Society at the University of Vienna and Head of the Department of East Asian Studies. He got his hands on the SA-70, reviewed it and said, not bad.

The Democratic People's Republic of Korea (DPRK), as North Korea is officially is know, has a $250 tablet called the Samjiyon. It's like an iPad in many ways because, everyone in DPRK probably feels the need to have one, and it will cost them more than they can afford, and it gets more press locally than it probably deserves.
It is, as Professor Frank points out, not widely available. It's like Mercedes Benz S-Class. Out of reach for the average citizen. And, it doesn't change the fact that DPRK remains a depressed and oppressed state.
Image courtesy of 38North
North Koreans would probably prefer things like food and not gadgets. But, they have over 2 million mobile phones and the Samjiyon seems like a natural progression. Samjiyon, by the way, was the site of a major batter in 1939 with the Japanese so, suck it iPad marketing team, you don't know how meaningless your lives really are until you have a dictator on your back who can actually kill you instead of just promising to kill you.
Professor Franks's SA-70 had a 1 GHz CPU, 1 GB RAM, 4 GB of storage and a slot with an 8 GB micro SD memory card. It also had a 7-inch screen with the quaint and retro resolution of 800×480 pixels.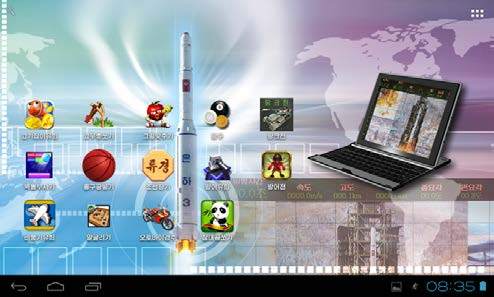 Image courtesy of 38North
As for the Internet, there didn't seem to be any way to connect. Although, there were plenty of other options to get at data and services. There was a micro USB, HDMI, audio output for headphones and, interestingly enough, a port for an external TV antenna. Like the iPad Air, the Samjiyon claims 10 hours of battery, albeit in audio mode. It measures 196x123x12 mm, weighs all of 250 grams, and has a customized version of Android 4.0.4. "Ice Cream Sandwich." The system is identified as an "MT65xx Android Phone."
You can read Professor Frank's full review here. He is, however, quite sanguine about the tablet because the Samjiyon is a great research tool, offering a glimpse into North Korea's educational and cultural mindset. The tablet comes with a selection of eBooks and textbooks. It also gives you a pretty good insight into the technical skills of North Korea's engineers and programmers. Nothing spectacular but at least it's real data and not just hearsay.