Incepted as a top-notch blogging platform, WordPress has been continuously evolving with upgraded features that drive not only designers but also writers towards them. WordPress has emerged as a hot tool that has started conquering the needs of the writer. Time and again, the platform has come up with brilliantly designed WordPress themes that are completely functional and appealing. The simple interface and easy-to-understand widgets make them a perfect solution for all those writers looking towards creating their personalized WordPress blog.
So, whether you are a writer planning to enter the world of freelancing or an entrenched and official author looking to creating a platform to sell your eBooks, you need to have a professional design with heightened features in it. Listed below are some really exciting WordPress themes you need to have for your own blogs. These custom-made WordPress themes for writers make it easier to come up with a modern, fresh and catchy content that helps and gets you more views.
Let's explore these 7 WordPress themes that are custom-made for writers
Looks ordinary on appeal, WordPress for Writers combines the excellent features to make your content stand apart and look incredibly unique. Being fully responsive, the theme features a clean design with elegant typography. It also features options like an advanced layout, stunning featured images, article series and author images to easily allow visitors browse and share content. Above all, the theme includes shortcodes that can be customized to accommodate the needs of your brand with the Live Customizer option.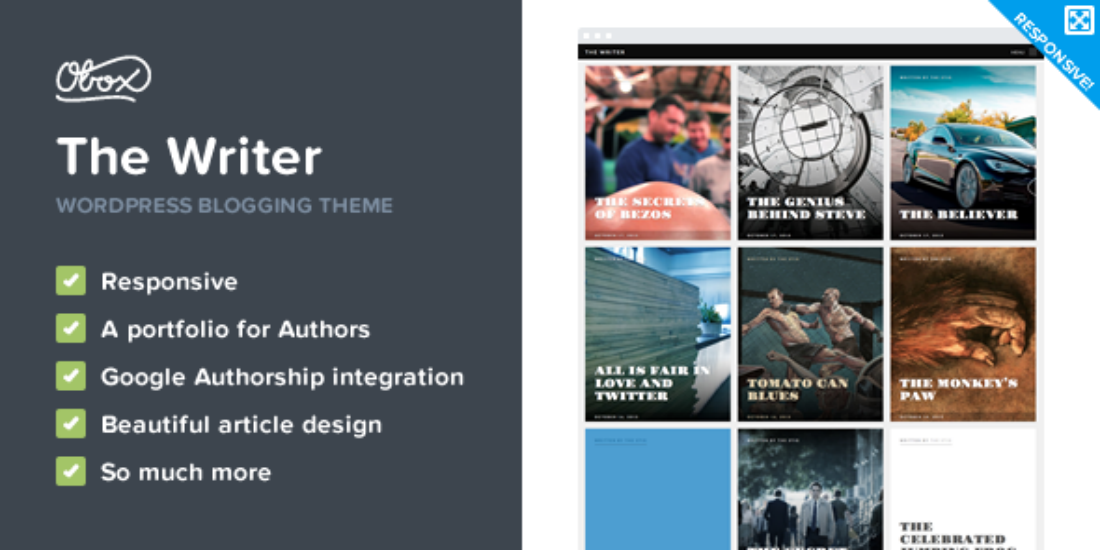 The Writer theme is an ultimate option for all those who wish to stand out from the competition. It is one of the premium WordPress themes designed specifically for aspiring writers, columnists and authors. The design of this theme ensures that all the long form articles are packaged in an easy-to-read layout which is customizable and mobile friendly. Compatibility with the advanced WordPress versions like WordPress 3.5, 3.6 and 3.7 makes it a popular choice amongst professional writers. Supported by a powerful visual customizer, this theme offers you the chance of branding your website to your business. It is also a great option for all those writers who are not so technically sound as an easy to understand documentation is made available with the theme. Compatibility with the topmost browsers like IE8, IE9, IE10, FireFox, Safari, Opera and Chrome comes out to be an another important reason to be popular.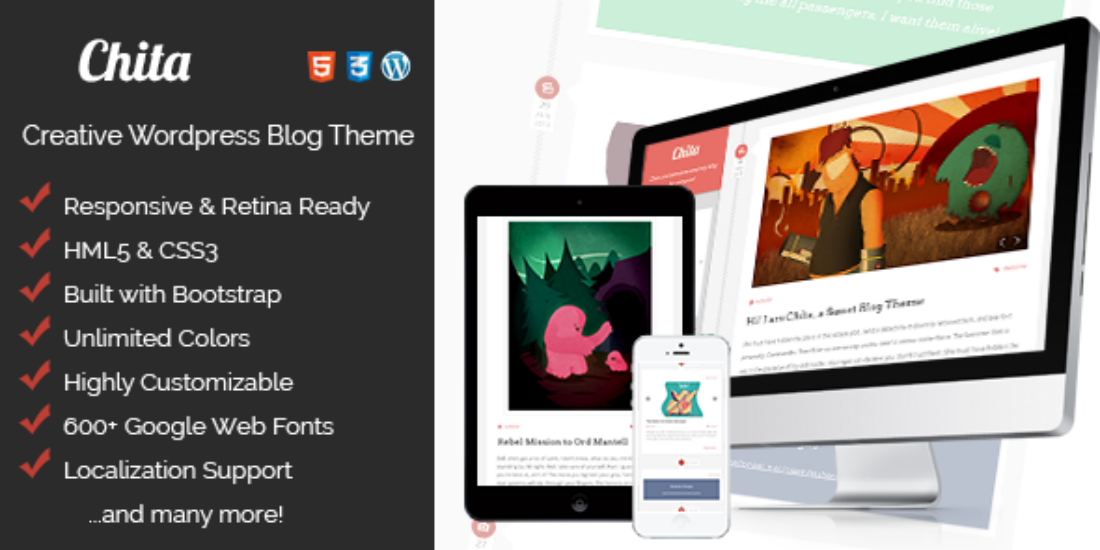 An extremely customizable, retina-ready WordPress theme for writers, Chita comes with a completely responsive design and a brilliant support for audio posts. Being retina-ready makes it the handpicked choice amongst writers who wish to design websites that run on desktops, laptops and mobile devices. A must-have for every WordPress blogger, Chita makes is highly compatible with IE8, IE9, IE10, FireFox, Safari, Opera and Chrome. It is designed on Bootstrap framework to offer eye-catching appeal across all set of devices.
Gadgetry is a free WordPress theme which functions as great as the premium theme for designing an appealing tech blog. This theme eliminates the need to worry about buying expensive themes. Designed with a full technical flare, Gadgetry has the potential to turn your website into a technology and gadget blog wherein you can showcase complete technical exposure. Featuring a responsive design, the theme allows easier and quicker access on every browser and device. The theme can be used for both magazine and blogs, therefore one can easily change the display format in Theme Options.
If you own a personal blog, Movement WordPress responsive theme is definitely going to be your helping hand. This theme counts to be the best choice for all those creative enthusiasts including travelers, writers, artists, designers and so on. With innumerable design options, this theme offers the most of customization benefits. On top of that, theme has a responsive design, translation-ready files and Slider revolution to create stunning slideshows of your best content. By making use of this theme, writers can make their writing stand out and look appealing to audiences. This theme offers a great way to present clips in an organized fashion and allows making your posts differ from the others.
Featured with clean, aesthetic and straightforward functionality, Blogify is one of the perfect tools that ensures your blog looks unique and fresh from the crowd. This theme is the perfect minimal theme for blogging in style. Enriched with top-class features like useful shortcodes, varied posts formats and a great design, this theme is for those who just want to write. The simple and clean admin panel allows you to customize the appearance of your site's theme in a hassle-free manner. The theme makes the best compatibility with web browsers like IE8, IE9, IE10, Firefox, Safari, Opera and Chrome.
An aesthetic, clean and responsive theme, Scrawl goes a long way for the content that involves long form of writing. It also features bold images, fancy image captions and enough space for your content to shine. Offering writers the perfect platform for displaying content, Scrawl includes a full-screen featured image that is guaranteed to impress and excite your readers. The content presented in large and bold typography is pleasing enough to read and ideally suited to long content form. The theme also features options to add stylish social sharing buttons to the sidebar.
Ending Notes:
On the web, content is often marked as the king and using these themes will definitely make your content win this title. The above-listed WordPress themes have been designed keeping the writers in mind. The minimal designs blended with clean typography ensure that your visitors stick around for a hurdle free and pleasurable reading experience. Whether it's a short blog post or long form articles, WordPress themes for writers are perfectly designed for a distraction free experience.
The themes mentioned above are fully responsive and support all styles of written content to easily display your work and impress your visitors. Some themes are free and some might be paid, so do not forget to choose your favorite one. This collection is specially selected for authors and writers and can be used both by novice writers and seasoned professionals.
Author Bio:
This post is put together by Bryan Lazaris who is an at HireWebDeveloper. With a passion for content marketing along with WordPress theme development, the author finds it equally interesting, sharing WordPress posts that are meaningful, content-rich and highly targeted to the audience. He possesses immense knowledge on the subject and therefore loves to share the same with audiences on the web.