In a surprise move, Nvidia is diving into the games console market with the launch of Project Shield, an Android-based portable device that can also stream games from a PC.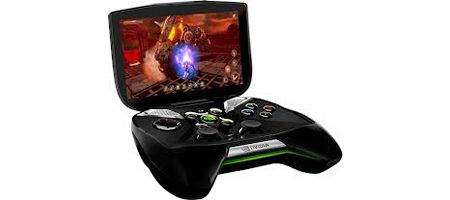 Powered by the newly-launched Tegra 4 chip, the clamshell-style device includes Wifi connectivity, HD video and audio built into a controller that can be used on its own or with a big screen. The device has a five-inch, 1280 x 720 HD retinal multitouch display, with 294 dpi.
It plays both Android and PC titles, including any game on Google Play and its own game library. Shield can also access Android apps such as Hulu, Netflix and Slacker Radio.
"We were inspired by a vision that the rise of mobile and cloud technologies will free us from our boxes, letting us game anywhere, on any screen," says Jen-Hsun Huang, co-founder and chief executive officer at Nvidia.
"We imagined a device that would do for games what the iPod and Kindle have done for music and books, letting us play in a cool new way."
The new Tegra 4 chip is claimed to be the world's fastest mobile processor, based on a 72-core GeForce GPU, and the first quad-core application of ARM's Cortex-A15. Nvidia claims its battery-saver core and energy-saving PRISM 2 technology deliver up to ten hours of gameplay from a single charge.
Users can instantly download Android games, including Android-optimized titles available on Nvidia's TegraZone game store. Shield can also receive games wirelessly or via an HDMI port from a PC with an Nvidia GeForce GTX 650 GPU or higher.
""Thanks to Project SHIELD's performance, we're able to use the same quality textures and shaders in Rochard as on the PC version," says Jan Achrenius, chief executive officer at Recoil Games. "We're super excited to bring Rochard to Project Shield, the first time it's ever been playable on a mobile device."
Project Shield is due to launch in the US and Canada by the middle of this year, although no price has been given.
"The market has waited years for a breakthrough gaming device that offers the flexibility, quality and total enjoyment of Project Shield," says Patrick Moorhead, president and lead analyst at Moor Insights & Strategy. "Few companies other than Nvidia have the vision, guts and deep gaming experience to have pulled this off."