Are you a modder with a spare Raspberry Pi dev board? If so, you might want to check out the LapPi mod.
This sweet project incorporates the little $35 mini PC board packing a 700 MHz ARM11 processor, with the latest model Pi boasting 512 MB RAM.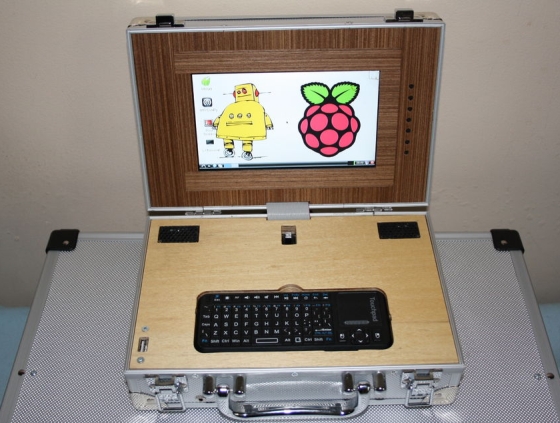 The Raspberry Pi is also equipped with an Ethernet port, USB port, and HDMI outputs. It is small enough to put into some impressively compact projects if you're so inclined. Of course, the LapPi isn't exactly a small device, but it is one of the most interesting mods I've seen lately.
The LapPi project was recently featured on the website Instructables by a user going by the name SilverJimmy. Essentially, he took a metal briefcase and filled it with all the accessories you need to make a functional mobile PC.
The mod boasts Wi-Fi, Bluetooth, a little keyboard, touchpad, a display, and batteries to make it completely mobile. The case is even equipped with an integrated GPS, a microphone, and stereo speakers making it fully functional on the go. Frankly, it kind of looks rather like a big briefcase computer that a spy would've used in the 60's.
The battery pack used in the mod is made up of 10 different rechargeable AAs, but could also be powered by normal throwaway AA batteries as well. So if you feel like building your own LapPi you can find all the instructions and a parts list over at Instructables. Judging by the parts list, this won't be an inexpensive mod, but it does look fun.
If this particular laptop mod doesn't interest you, another project that might pique your curiousity is the cool Picade we talked about last week, which transforms your Raspberry Pi into a miniature arcade cabinet for playing classic video games.