Samsung's Chromebook hasn't even officially shipped yet, but a developer by the name of Olof Johansson has already managed to load up Ubuntu on the $249 laptop. 


Personally, I'm somewhat surprised that Ubuntu made it onto the device before Android, but I suppose Google's wildly popular mobile OS is next in line – hopefully in the form of Jelly Bean (4.2).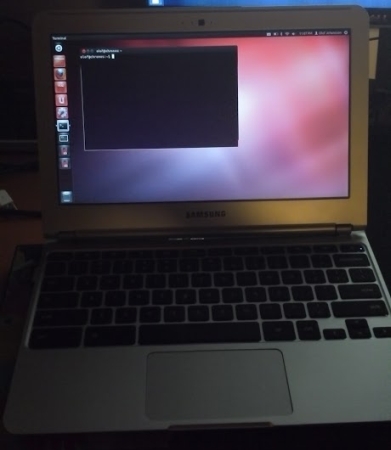 In the meantime, however, we'll have to content ourselves with Ubuntu running on the Chromebook – even if the trackpad isn't working perfectly yet.


Interestingly, you don't have to replace Chrome as an OS to run Ubuntu, but rather, the Linux variant can be written to an SD card, while the Chromebook is booted from a removable storage card.


"A word of caution: be careful, there are some ways in which you can mess up your system below, in particular the steps that partitions and writes data to the SD card," Johansson explained in a forum post.


"[So] If you're unsure of what you're doing, you're better off waiting until someone refines the instructions and makes them more user friendly.
As TG Daily previously reported, Samsung's Chromebook features an 11.6 inch display, a Samsung Exynos 5 dual core ARM-based processor (Cortex-A15) and approximately 6.5 hours of battery life.
Additional specs for include 802.11n/WiFi, Bluetooth 3.0, a USB 3.0 port, a USB 2.0 port, HDMI output, a VGA camera, 16GB of storage, 2GB of RAM, 10 second boot time and instant resume from sleep.


Chrome OS can best be described as a Linux-based operating system designed to work exclusively with web applications and Mountain View's cloud-based Google Drive.
The operating system was announced on July 7, 2009, with the first Intel-based Chromebooks shipping on June 15, 2011.