HTC's latest and greatest Windows Phone device could carry an unsubsidized price of around $560.
It was announced earlier this week that the new device would be available exclusively in the US on AT&T, but no pricing details were announced.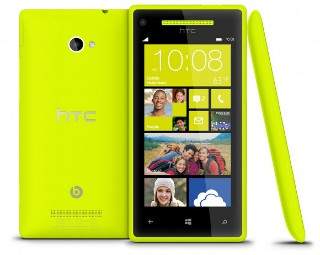 On GSMArena.com, though, there is an allegedly leaked document showing that in the UK, the phone will be priced at £350 ($564) without a carrier subsidy.
That is a lower price point than major smartphones like the iPhone 5 and the Galaxy S III.
As a result, expect to see a carrier price of less than $200.
The 8X isn't the most amazing phone from a technical standpoint, but that is what the Windows Phone category has come to represent – solid, middle-of-the-road phones that don't cost an arm and a leg.
The company also introduced the 8S, a similar phone but with only a 1 GHz processor, 4-inch display, and 512 MB of RAM. It also only has 4 GB of storage. No carrier has committed to this device yet.
Unlike HTC's traditional Android products, these Windows Phone gadgets make a visual statement, as they have bright, neon-like colors.
Nokia is still the champion of the Windows Phone market, but that is increasingly like being the captain of the Titanic. HTC hopes it can help steer the Windows Phone ship clear of the iceberg and steal Nokia's thunder in this still-very-niche segment of the smartphone industry.
The 8X will be available from AT&T in November.