Apple's decision to dump Google maps with iOS 6 and go with its own solution is looking like a disaster.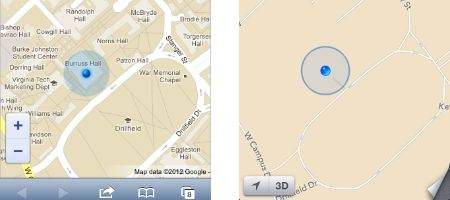 The company's support forum is awash with complaints from all over the globe. Many users say they have canceled their orders for the iPhone 5 as a result.
Major towns are missing, or pictured 20 miles from their true location, satellite views are obscured with cloud or heavily pixellated, and directions are frequently bizarre, taking users miles out of their way. Poor rendering makes many bridges look as if they've melted, and New York's Statue of Liberty is missing.
The problem isn't confined to any one geographical region, with howls of complaint from the US, Europe, Russia, Australia and the Far East. "In China, the majority of cities and town do not even have anything! The Maps is completely blank," says one user.
Ireland's minister for justice has gone so far as to call the app 'dangerously misleading', after discovering that a Dublin farm has been labeled as a working airport.
The app was introduced after the company announced in June that it was to stop using Google Maps, ending a deal which had been in place since 2007. Ironically, at the time the company claimed that its own version would feature improved graphics and photo-realistic interactive 3D views.
The system is based on data from TomTom, which has been quick to distance itself from the problem. It's pointed out that all it's done is supply the maps, and that it's Apple that's responsible for the imagery.
Apple's answer to the problem is to get users to sort things out, pointing out that, as it's a cloud solution, it should improve as more people use it and report errors. It's not an attitude that's going down well with users: "I'd like to know why I paid $500+ for my new iPad to become Apple's beta tester," says one.
However, many users are doing just as Apple asks. A movement has started to deluge the company with information by informing it of as many glitches as possible – and then demanding the return of Google Maps.
While it's possible that Apple will be swayed by user opinion, it's probably not worth pinning your hopes on it. But legal action may have more of an effect – Google has in the past faced lawsuits over errors in Google Maps that were far less significant than those now being cited.