Although 3D TV isn't yet mainstream, those with television sets supporting the rapidly evolving format have loudly clamored for content in recent months.


LG is apparently doing its part to support the struggling medium by rolling out a game portal tailored specifically for the company's CINEMA 3D Smart TV lineup.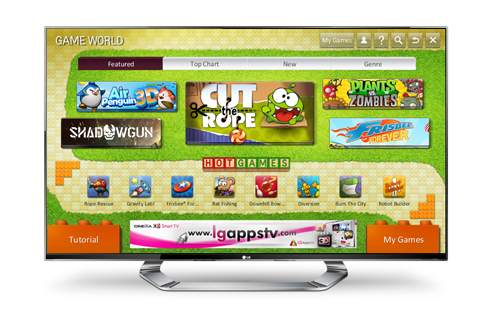 According to LG CEO Havis Kwon, the portal will provide a user-friendly way of searching, purchasing, and playing game apps – in both 2D and 3D – via an intuitive interface.
As expected, most of the games can be played with LG's Magic Remote or with any third-party game pad. 

Unfortunately, the selection of games will be limited, at least initially, with LG restricting titles to those "suitable for everyone" in the following categories: Action, adventure, arcade, puzzle, RPG, shooter, simulation, sports and strategy. 


While LG has yet to provide a list of specific games, an official Game World graphic suggests we can expect Air Penguin 3D, Shadowgun, Cut the Rope, Plants & Zombies and Frisbee Forever to be part of the lineup at launch.


As PC World notes, LG's Smart TV operating system is based on NetCast, an indigenously designed in-house smart device platform. 

An LG Android-based smart television set is said to be in the works, although Game World, in its current iteration, probably won't be compatible with a set powered by Google's versatile OS. 


Frankly, I don't think Game World has much of a future, as it seems to be a niche portal for a niche format. Then again, LG would be remiss if it didn't offer content specifically tailored for those buying the company's CINEMA 3D Smart television sets. I suppose LG is trying to be responsible, but clearly, the future of connected TV lies elsewhere.
Game World will be showcased at IFA 2012 in Germany and is slated go live during the second half of this year.