Swiss scientists are working on a system designed to let sheep alert shepherds of marauding wolves by SMS.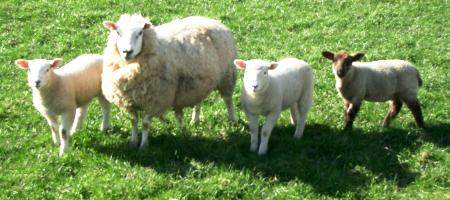 With sheep's hooves not brilliantly adapted for tapping out text messages, the biologists have turned instead to an automatic system centered around the use of a heart monitor that registers when the sheep become frightened.
According to local news reports, it's already been tested on around ten sheep which were then placed in an enclosure with two – muzzled – wolfdogs.
"This is the first time such a device has been tested in the field," says biologist Jean-Marc Landry.
And, found the team, the change in the sheep's heart rate was enough to distinguish when the animals felt under threat, rising from 60-80 beats per minute up to 225 when the wolfdogs were released.
The device would be useful for small flocks, or in tourist areas where guard dogs might frighten off more than wolves.
The team's planning to release a prototype later this year and test it more thoroughly, in France, Switzerland and Norway.
They suggest that the collar containing the heart monitor and SMS could be adapted to include a wolf repellent – though they don't specify exactly what form that might take.