Have you been holding out for a new mid-range Android tablet with long battery life and sweet specs?
Well, you may want to check out the Asus Transformer Pad TF300. The recently launched device – which weighs 1.4 pounds – is now shipping, with the 32GB version carrying a $400 price tag.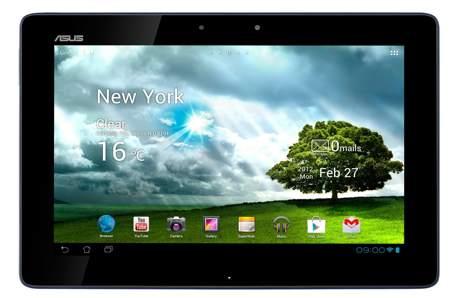 The coolest feature about this Android Ice Cream Sandwich tablet? The keyboard dock, as it neatly transforms the standard tablet into something akin to a notebook or netbook.
Unfortunately, the TF300 does not ship with the keyboard, which sells for an extra $149 and features an extra battery – significantly extending the tablet's run time to a total of 15 hours.
Under the hood, the tablet is powered by Nvidia's Tegra 3 quad core processor. The TF300 also boasts a 10-inch IPS screen with a resolution of 1280 x 800, an 8-megapixel rear camera, as well as support for Wi-Fi and Bluetooth.
Amazon lists the blue 32 GB version of the tablet as shipping 8 or 9 days after the order is initially placed. Asus is expected to offer red and white versions of both tablets starting in early June.