If you have a new iPad and frequent Facebook, you'll probably want to download the new Facebook app because it's been updated specifically for you.
Yes, the latest version of the Facebook app for iOS adds support for retina graphics. This is certainly a quick rollout for Facebook, especially consider that the social networking time took its sweet time coding an app for the first generation iPad.
Nevertheless, as The Verge points out, Facebook still could have rolled out its Retina-friendly app a lot quicker.
Indeed, other popular apps like Skype, Netflix, Kindle, and the New York Times were updated within just a few days.
Oh, and yes, the latest iPad app doesn't support Timeline profile pages, which in all honestly is probably a plus, at least in my opinion.
Of course, there are other new features in Facebook 4.1.1 for iOS if the retina graphics isn't really something you care about. For example, there is now offline chat, as well as support for several new languages and numerous bug fixes.
The update for Facebook will undoubtedly appeal to most, but if you want to use your new iPad as a secondary display via the Avatron app Air Display, well, that has been updated as well to support HiDPI OS X Mode on the new iPad tablet. The updated app now has options under settings for "use retina resolutions when available" and "enable HiDPI resolutions."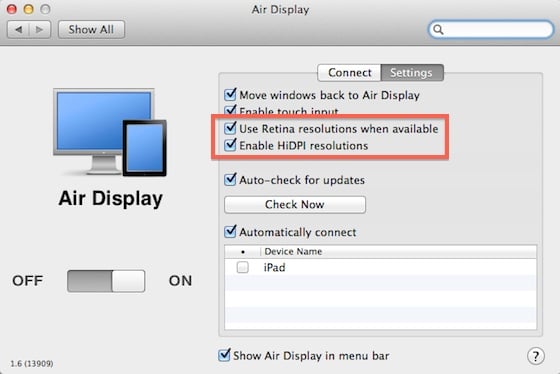 The updated version of Air Display is on the app store right now for $9.99.
Apparently, the app works well at high resolutions and there is no noticeable lag or visble compression visible.
Still, I'd wager there will likely be some issues if you try streaming video to the secondary display.