Research in Motion has just launched what it hopes will be a jolt to its fledgling Playbook tablet device.
The company has rolled out the latest software update for the device, bringing with it a bunch of new features, some of which frankly should have been built into the device from day one.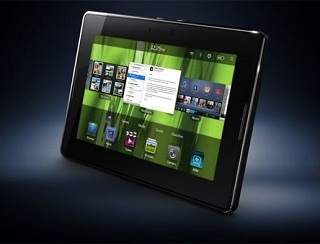 "Building on the BlackBerry Playbook tablet's proven web browsing, multimedia and multitasking strengths, the new BlackBerry Playbook OS 2.0 introduces a range of new communications and productivity enhancements as well as expanded app and content support," said RIM in a statement.
The new version of the OS finally fully integrates such basic features as messaging and a calendar. Those features did exist on the Playbook from day one, but only if users happened to own a Blackberry phone, had wireless connectivity turned on for both devices, and went through the syncing process.
By not having something as basic as a calendar app out of the box, the Playbook earned harsh criticism. Other features were also missing and added in previous software updates.
Also new for the Playbook with version 2.0 is a digital streaming Video Store and a new slate of professional tools like ruch-text email composing and Microsoft Office document editing.
While the update for Playbook is interesting, it is perhaps more interesting to see how this will affect RIM's smartphone lineup. Blackberry phones powered by the same operating system as the Playbook are due out by the end of the year. However, they were supposed to be coming out right about now.
But now, with at least six or seven months to wait until this becomes a reality, it may very well be too little too late. By then, Nokia's partnership with Windows Phone will be in its maturity and the dominance of Android and iOS will only continue to grow on a global scale.
Until then, RIM has to rely on its existing Blackberry software, which still has roots that date back to the early 2000s. There is no room for a platform like that in today's mobile climate.