Launching on AT&T, the latest device to go under Samsung's "Galaxy" portfolio is called the Skyrocket HD.
Unveiled at this week's Consumer Electronics Show in Las Vegas, the Skyrocket HD packs a 1.5 GHz dual-core processor, a 4.65-inch Super AMOLED HD display with 1280 x 720 resolution, and support for AT&T's burgeoning high-speed 4G LTE network.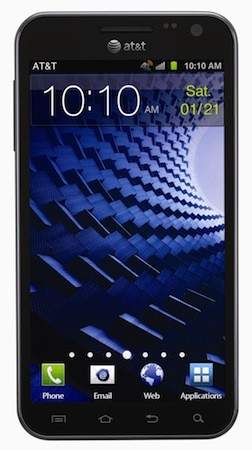 The device is 9.27 millimeters thick, making it pretty slim by most standards. Other than that, though, few other details were announced.
For example, Samsung did not reveal what version of Android would be powering the device, though we assume it might be Ice Cream Sandwich.
Additionally, pricing information was not announced. AT&T has not really been comfortable flirting with the above-$200 prices like Verizon has, but this top-of-the-line one from Samsung might push that boundary.
As for a release date, Samsung says to expect the Skyrocket HD "in the coming months."
In addition, other AT&T news included the announcement of Sony's Xperia ion, the first Sony LTE phone, and the affordable Pantech Burst and Samsung Exhilarate, both of which will sell for $50 and be 4G LTE compatible.
2012 will be the first full year in which AT&T has two competitors selling the iPhone, so the carrier is banking bigger bucks than ever on Android. This is by far the most aggressive Android push we've seen from AT&T at CES.