Although Apple's wildly popular iPad currently dominates the tablet market, non-iOS devices managed to eke out approximately $415 million in revenue this year.
According to the NPD Group, tablet hardware sales accelerated throughout the year with each quarter performing better than the prior quarter. Third quarter sales were two times that of second quarter sales, while second quarter sales were three times better than first quarter.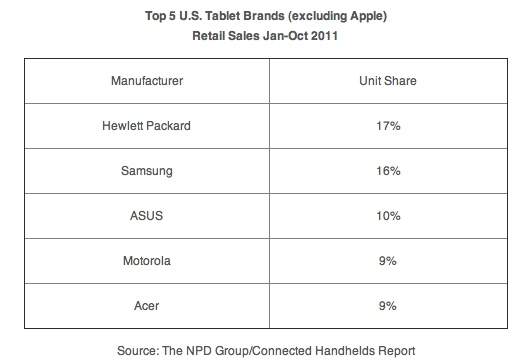 "If you look at the tablet market without Apple there are a number of high-profile brands vying for that [highly coveted] number two spot," explained NPD analyst Stephen Baker.
"[For example], 76% of consumers who purchased a non-Apple tablet didn't even consider the iPad, an indication that a large group of consumers are looking for alternatives, and an opportunity for the rest of the market to grow their business."
Baker also noted that PC manufacturers remain dominant in the tablet space, as four of the top five tablet brands already have a strong US consumer PC presence. 

However, he warned that a number of companies would likely fail to capture significant tablet market share.
"The market is filled with long-time PC and phone brands as well as low-cost entrants… With a limited amount of shelf space and challenges in overcoming the iPads first mover strength, not all brands will be successful," added Baker.