When producer Mike Fleiss isn't surfing TV channels, he admits he's got an unusual pastime or two in his back pocket to keep himself amused. The California native, who grew up splashing in the Pacific Ocean, loves surfing actual waves and is an avid fisherman.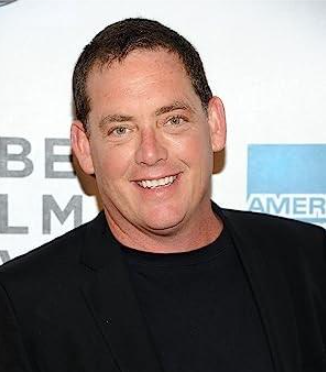 Fleiss says he and a group of friends will be heading south of the border this fall. "We're entering the Bisbee, which is the biggest, richest fishing tournament in the world," Fleiss says. "We're doing that in October, down in Mexico."
Last year's 42nd Bisbee's Black and Blue fishing world tournament offered a total purse valued at $11.5 million.
While Mike Fleiss has been known for his mammoth reality TV creations, when it comes to fish, he's also reeled in some whoppers — including a 280-pound tuna.
In addition to fishing, Mike Fleiss says he has a spicy food habit that's inspired him to turn his craving for grilled jalapenos as a condiment into a reality. He launched a restaurant in Lake Oswego, Oregon, called Toreados, which is centered around zesty tidbits.
"There's a thing in Mexico called the chiles toreados, which is a side dish, and so it's based around that," Fleiss says.
"I love spicy food."
Fleiss Shares His TV Faves
It shouldn't come as a surprise Fleiss considers watching television to be another one of his lifelong passions. He shares that he grew up mesmerized by the fleet of Aaron Spelling shows that ruled the tube in the late 1970s and '80s, including classics like Starsky & Hutch, The Love Boat, Fantasy Island, and Charlie's Angels.
"I grew up loving television," Fleiss says. "I decided to try to go into show business because I was excited by The Howard Stern Show and The Simpsons and stuff like that, and so I felt like there would be more freedom of expression, at least at that time in history, in television."
As a kid, Fleiss says he even watched chat fests tailored to an older crowd, like Dinah! and The Mike Douglas Show. "I saw pretty much every show when I was a kid," he adds. "I watched everything. Mannix and The Six Million Dollar Man and Family, I saw them all. I was voracious with television."
His early love for television sparked his first ideas for TV show concepts. "My first job in TV was at a show called Totally Hidden Video," Mike Fleiss shares.
It was during his stint there that he mustered up the courage and the idea to pitch a series about stars before they were famous.
"The first show I ever created was a show called Before They Were Stars, and I had that idea before I even came to LA," he recalls.
Fleiss says the concept was essentially born out of his love for TV and it was based around seeing celebrities in TV commercials before they shot to superstardom. "I'd watched Jodie Foster do a commercial as a kid for toothpaste," Mike Fleiss remembers.
He then took clips of famous people such as Sharon Stone, Jack Nicholson, and Tom Cruise in their very first screen appearances in commercials. "I had sort of monitored that over my childhood, seeing how people started, and so I thought, oh, it would be a fun little show to do," Mike Fleiss says.