With top class art exhibitions, museums, galleries, gardens, restaurants and bars, London is a hep and happening city all-round the year. There are various attractions and night activities to do in the Capital. So, if you're wondering about things to do in London, forget about a particular list or so, and just head out into the city.
For quite a lot of people, visiting London in itself is a dream come true. It is the city of dreams. So, here we bring you our recommendations for things to do in London.
A helpful guide to some must-visit places and must-to-do things, plus some events and gigs that you won't want to miss.
But, before moving on to the to-do list, let me tell you that London is a year-round busy destination, and so, it might get difficult to get yourself a place to stay on the go. It is best to make a booking for yourself before you travel.
Considering you are a tourist; my recommendation would be to book yourself a room in . It is a supremely stylish hotel, also the newest Landmark for London. The rooms are designed beautifully with the essence of comfort and technology coming together.
Now, that your stay is sorted, let's move ahead with our list of 10 must do things in London.
Top 10 Must do Things in London
1.
It is an art gallery that will leave you awestruck with their collection of world-class art. It is not possible for you to cover all of the things in the Museum in a single day, so the gallery has itself listed the must-see 30 paintings on their website.
2.
Hyde Park is situated on the southeast corner of the Royal Parks of London.The park is home to a lot of water bodies, and hosts various concerts with funfair rides, in both summer and winter alike.
The park is situated alongside the Crystal Palace and has been a part of hunting grounds for King Henry VIII.Lady Diana's commemorative memorial and the Serpentine is also located around the Park.
3. Free Walking Tours
An excellent way to explore the city in the company of a guide who knows it all, Free London Walking Tour is a must-dothing in London. You can do a street art tour, food tour, family tour, graffiti tour, or anything for that matter to get to know the city better.
4.
An age-old Vegetable and Fruit market turned into a tourist spot, is situated in the Central Square Building. The garden is embellished with various small shops, pubs, cafes and other markets, and is a famous shopping spot.
5.
London is a heaven for all the book lovers. There are a number of independent as well as second-hand bookstores, among which the Daunt Bookshop is a very famous one. It has a long oak gallery with skylights and glass windows. The books here are arranged country-wise, which is a unique style of arrangement.
6. Window Shopping at Harrods
Harrods is a huge store in London that just browsing the store in itself is an experience not to be missed. Just window shopping at Harrods will make you feel satisfied and tired at the same time. There are 330 retail departments spread across the retail space of 1 million sq. ft. the food hall section of the market is filled with exotic food.
7.
It is considered to be the largest of libraries in the world. Some of the important highlights of the library include various exhibition rooms, a Gutenberg Bible, a room dedicated to Magna Carta, a manuscript of 'Nicholas Nickleby' by Charles Dickens and more.
8.
Worships held on Sundays and other religious holidays like Christmas and Easter are free to attend. The service is free of charge and everyone is welcome to attend.
The church is built in Gothic architectural design and the interiors of the church are a treat to your eyes. It is also a coronation church and has been serving to 17 monarchs as their final resting place.
9.
This ancient wall was built by the Romans in the Londinium town across the River Thames. The London Wall is the name given to the street that is attached to a certain part of the ancient wall. The origin of the wall dates back to the 2nd or 3rd Century AD.
10.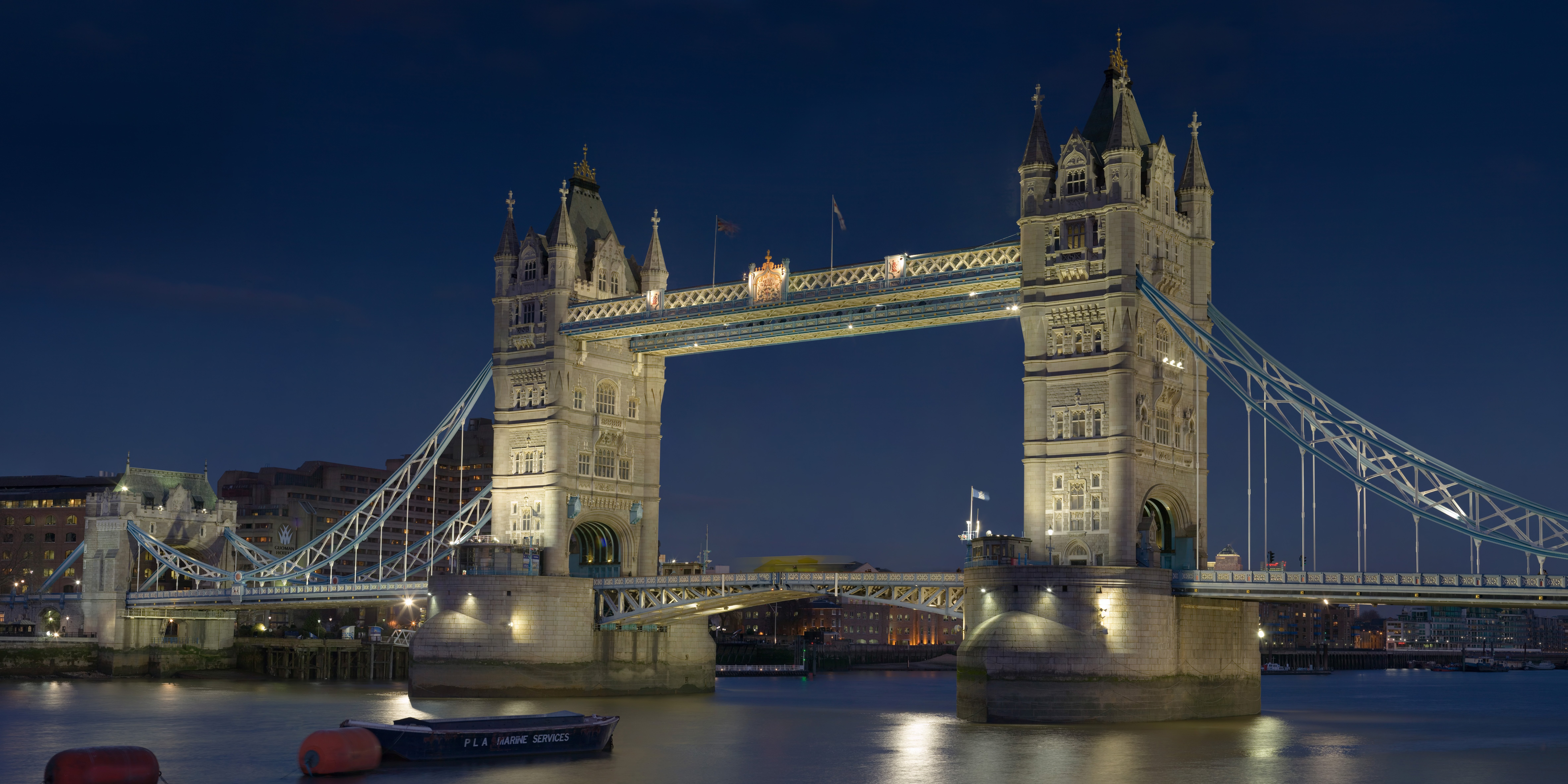 Last but not least, Tower Bridge is one of the most eye-catching landmarks of London. You can view the Tower Bridge exhibition, and the opening and closing of Tower Bridge, which is a spectacular view. Alongside, you can walk on the glass walkways.
The deck of the bridge is freely accessible to pedestrians as well as vehicles, while the walkway and exhibition are charged. The lifting of the Bridge to admit of the passage of ships is a delight to view.