From getting a tan to keeping your stress levels down throughout the year, the benefits of living close to the ocean are as tremendous as they are subtle. Feel like there are few things worse in life than being caught up 24/7 in the nerve-racking depths of the inland urban jungle? Then moving closer to the ocean may not be such a far-fetched idea after all. You even have two coasts to choose from. Have a look at Miami, or browse through some and get a move on while we busy ourselves with this short list of living-by-the-ocean perks:
The ocean helps clear up your mind
There are studies and ongoing scientific efforts that confirm this highly intuitive, yet insanely romantic idea. Marine biologists working with neuroscientists have figured out that our brains are, in fact, hardwired to respond positively to water. For example, feeling weightless while floating in salt water has a soothing effect on the mind, and it actually slows down your brain wave activity. It's not water alone that does the trick: some show positive correlation between people's proximity to the sea and their self-reported health levels. In times when most of the damage to our mental health comes from relentlessly high stress levels, having a therapeutic environment to retreat into on a daily basis is priceless.
It's easier to stay in shape
Salty air coming in from the ocean is an amazing treat for your lungs and sinuses. You'll be able to make healthy habits out of the simplest things, like short evening walks. Swimming in ocean beneficial effects on your immune system. Plus, it's the most refreshing thing ever. Not to mention that salt water is antibacterial and rich in magnesium, a nutrient that gets absorbed at skin level if your body needs it. And let's not forget about all the Vitamin D your body will synthesize during time spent in the sun. Apart from boosting the immune system, vitamin D is amazingly helpful in tackling depression, strengthening bones and tonifying your muscles.
Near-ocean sports are more efficient and fulfilling
Getting out of the house is much easier when the landscape includes a spectacular view of the ocean. And the jogging routine you're always dreaming of will be much easier to stick to once you have a seafront running track 5 minutes away from home. Beach volley is notoriously difficult to master, but the kicks –and occasional sore thighs– you get out of it are very much worth it. And finally, you'll get your very own "I want to try out surfing" moment. This time without it being naïve to dream of someday riding the waves — because if you really want to you can practice every single day and get good at it.
Spending time with friends on the beach always feels like vacation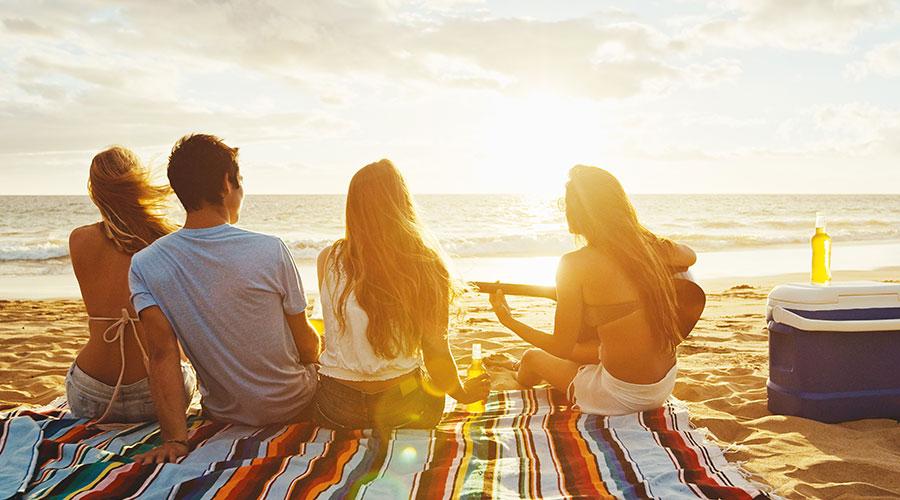 Time spent by the ocean on your own is pure medicine. But having people you connect with join in on your little heavenly moments can bring the joy to unprecedented highs. Imagine having your friends over and instead of hitting downtown (again…), you spend an evening on the beach without a care in the world. Weekends will feel like vacations, and your group's energy levels will skyrocket like never before. Think of it as having all the benefits of going on holiday, without the drudgery of planning, packing and travelling by car for hours on end.