A British expedition has discovered the world's deepest undersea volcanic vents, erupting water hot enough to melt lead.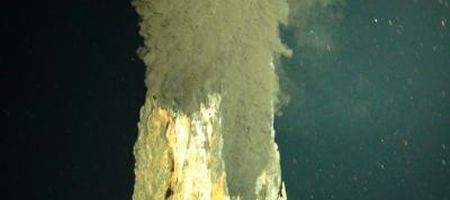 Using a deep-diving vehicle remotely controlled from the Royal Research Ship James Cook, the scientists found slender spires made of copper and iron ores on the seafloor three miles down, nearly half a mile deeper than anyone has seen before.
The Southampton expedition to the Cayman Trough in the Caribbean used a robot submarine called Autosub6000, developed by engineers at the National Oceanography Centre (NOC) in Southampton.
Another deep-sea vehicle called HyBIS has filmed the world's deepest vents for the first time.
"It was like wandering across the surface of another world," says geologist Bramley Murton of the NOC, who piloted the HyBIS underwater vehicle around the world's deepest volcanic vents for the first time. "The rainbow hues of the mineral spires and the fluorescent blues of the microbial mats covering them were like nothing I had ever seen before."



The Cayman Trough is the world's deepest undersea volcanic rift. The pressure at the bottom is 500 times normal atmospheric pressure.
The researchers will now compare the marine life in the abyss of the Cayman Trough with that known from other deep-sea vents. They will also study the chemistry of the hot water gushing from the vents, and the geology of the undersea volcanoes where these vents are found.
"We hope our discovery will yield new insights into biogeochemically important elements in one of the most extreme naturally occurring environments on our planet," says geochemist Doug Connelly of the NOC, who is the principal scientist of the expedition.
The expedition will continue to explore the depths of the Cayman Trough until 20th April. The team is posting daily updates on its expedition website, including video, here.