NASA's announced its plans for the US spacecraft it hopes will take human beings into deep space.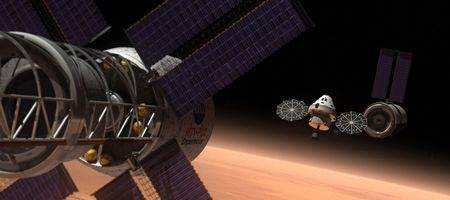 As expected, the design will be based on its Orion Crew Exploration vehicle, which was originally expected to take Americans back to the moon – until Barack Obama canceled the project last year.
The Multi-Purpose Crew Vehicle (MPCV) will be built by Lockheed Martin. It will carry four astronauts for 21-day missions and be able to land in the Pacific Ocean off the California coast. It's expected to be used for missions to Mars and the asteroid belt.
It will have a pressurized volume of 690 cubic feet, with 316 cubic feet of habitable space. It is designed to be 10 times safer during ascent and entry than its predecessor, the space shuttle.
"We are committed to human exploration beyond low-Earth orbit and look forward to developing the next generation of systems to take us there," said NASA administrator Charles Bolden.
"The NASA Authorization Act lays out a clear path forward for us by handing off transportation to the International Space Station to our private sector partners, so we can focus on deep space exploration. As we aggressively continue our work on a heavy lift launch vehicle, we are moving forward with an existing contract to keep development of our new crew vehicle on track."
Orion formed part of George W Bush's Constellation program, which aimed to take the US back to the moon. At the time of its cancellation, some $5 billion had already been spent, and it was widely assumed that the administration would be reluctant to waste that investment.
"This selection does not indicate a business as usual mentality for NASA programs," said Douglas Cooke, associate administrator for the agency's Exploration Systems Mission Directorate in Washington. "The Orion government and industry team has shown exceptional creativity in finding ways to keep costs down through management techniques, technical solutions and innovation."
NASA is aiming to launch the MPCV aboard a heavy lift rocket as soon as 2016, although this may be pushing it a bit. However, an announcement on the launch vehicle is expected soon.