DARPA has released a video detailing some of the progress it's made with its Phoenix project for repurposing existing satellites.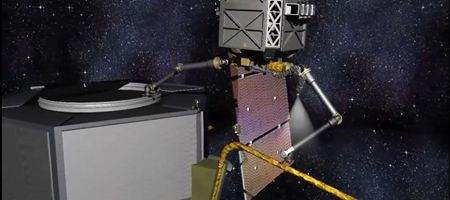 The project was first announced in 2011, with DARPA saying that there were more than $300 billion worth of retired satellites orbiting the Earth. While they may be defunct, many are packed full of useful and valuable components.
"Today, satellites are not built to be modified or repaired in space," says DARPA program manager Dave Barnhart. "Therefore, to enable an architecture that can re-use or re-purpose on-orbit components requires us to create new technologies and new capabilities."
Its first attempt is likely to take place in 2015, and will involve stripping a small satellite for spare parts. It says there are about 140 retired satellites that would be suitable. It would then install these parts on a string of mini-satellites to create a new communications system.
To help, DARPA's to issue a Broad Agency Announcement (BAA) calling for newtechnologies and capabilities. It lists low cost software and hardware for rendezvous and proximity operations, the interlinking of test facilities, virtual ground station operations and a hosted launch for the payload orbit delivery (POD) modules.
It's holding a Proposers' Day for anyone interested on the 8th of February.
"Our ultimate goal for the Phoenix program is to increase the return on investment of high value space assets by reusing components from nonfunctioning satellites that have already been placed in space through permission from their owners and techniques and technologies that allow for responsible, transparent, and safe processes and behaviors," says Barnhart.
"We have a long way to go, but we are laying the foundation for improving how we build space systems, with the goal of changing the economic model for space operations."