I have long believed that the USA is a profoundly anti-intellectual country, in spite of America's (paradoxical) belief in its technological and intellectual superiority over the rest of the world.
You hear the insults all the time, concurrent with an actual or understood sneer: Long hairs, eggheads, nerds, geeks, Ivory Tower academics, brainiacs, book worms, teacher's pets, know-it-alls, rocket scientists.
Modern conservatives seem to be the worst at this form of hypocrisy, apparently thinking that technological superiority and commercial success are America's God-given rights, and the knowledge to create them grows on trees.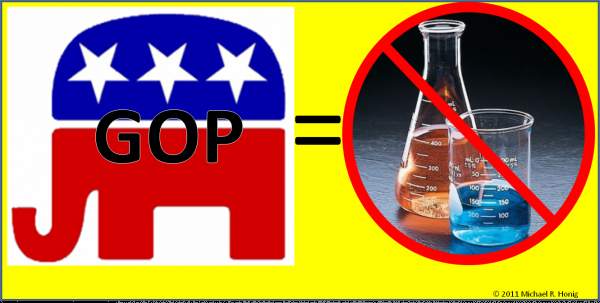 The Federation of American Societies for Experimental Biology (FASEB) sent out an emergency email announcing that the House leadership (i.e., the Republican House Leadership, although they were too politically correct to say so) has proposed cutting current National Institutes of Health (NIH) funding by 5.2%.
This matters. It matters because of the impact it has on jobs, incentives for investing in one's education, survival of our institutions of higher learning, and more.
That 5.2% NIH budget cut sounds bad. It may actually be worse.
I did a bit of research. Here is how the numbers break down:
History of Congressional Appropriations, Fiscal Years 2000 – 2010
(Dollars in thousands)
| | | | |
| --- | --- | --- | --- |
| YEAR | TOTAL | Annual % Increase | |
| 2000 | 17,820,587 | | |
| 2001 | 20,458,130 | 14.80% | |
| 2002 | 23,296,382 | 13.87% | |
| 2003 | 27,066,782 | 16.18% | |
| 2004 | 27,887,512 | 3.03% | |
| 2005 | 28,495,157 | 2.18% | |
| 2006 | 28,461,417 | -0.12% | |
| 2007 | 29,030,004 | 2.00% | |
| 2008 | 29,312,311 | 0.97% | |
| 2009 | 30,545,098 | 4.21% | |
| 2010 | 31,008,788 | 1.52% | |
| 2011 (Proposed) | 29,400,000 | -5.00% | |
Those are actual dollars, not adjusted for inflation.
The graph below tells the real story:
The asterisked sections in FY 2009 and 2010 are the special stimulus requests made by President Obama.

The original chart came from SCIENCE,

7 May 2010: 676
The important thing to look at here is the dashed red line. Those are the 'real' funding levels after taking inflation into account. And that yellow bar? That was the optimistic estimate in May 2010; nowhere near the House proposals.
The obvious trend of research dollars is down from 2003 through 2009. If you examine the chart carefully, you can see that in constant 2010 dollars, President Obama's stimulus request only brought the funding levels roughly on parity with 2003. The Republican budget proposed for NIH would reduce real research dollars to approximately FY2001 levels.
Private enterprise may in fact do research better when they spend the money, but the knowledge is proprietary, probably patented, and therefore monopolized for decades.
Government-funded research has some advantages. Any discoveries made with government money are instantly public domain. That means they're available to anyone who can figure out a way to commercialize them, creating greater opportunities for business and job growth.
America today is a nation of crumbling bridges, decaying roads, inadequate rail systems, and a space program which is becoming a pathetic shadow of its former self.
Declining nations glory in their past accomplishments because their future looks so bleak. Rising nations become great by looking to the future, investing in their people and their infrastructure, and taking risks.
Research – the kind of research done by the NIH, among others – is investment. It's risk. It's what rising nations do to become great. Or in our case, to remain great.
The future isn't free, and it isn't guaranteed. If we refuse to invest in it, it will pass us by.
Michael R. Honig has hosted ThinkWing Radio with Mike Honig on Talk650-AM (Houston), and maintains and updates the web site ThinkWingRadio.com. He is a political activist, writer, and teacher. He has decades of experience in the retail business, the window fashions trade as installer and seller, and in film process control. (Like that's gonna be useful anymore.) If he hasn't worked at it, he probably still knows enough to be dangerous. Contact him at [email protected].