Berkeley Bionics has launched a bionic exoskeleton aimed at civilian use, aimed at helping paraplegics walk again.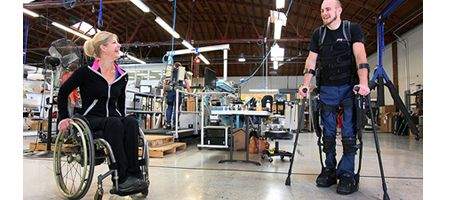 Like the Rex Bionics exoskeleton launched three months ago, ELegs is aimed at wheelchair users who can operate hand controls and transfer themselves from a wheelchair.

https://www.tgdaily.com/general-sciences-features/50688-bionic-legs-allow-wheelchair-bound-to-walk
"As a wheelchair user, I experience the multiple health and fitness benefits of mobility from the standing position. I can't wait to share this alternative with other individuals," said tester Dr Suzy Kim. "The application of ELegs will revolutionize the field of neurologic rehabilitation from the hospital to the home setting."
To start with, the device will be offered to rehabilitation centers for use under medical supervision. It fits fit most people between 5'2″ and 6'4″ and weighing 220 lbs or less.
It's secured with simple Velcro straps, backpack-style clips and shoulder straps – with a little practice, users can get in and out in a minute or two, says Berkeley Bionics.
ELegs has the best knee flexion of any exoskeleton today, claims the company, and is relatively quiet while in operation. Walking speeds depend on the individual user, but can reack about two miles an hour.
The device is battery-powered and employs a gesture-based human-machine interface which senses the gestures the users makes to determine their intentions.
Clinical trials will start early next year at rehabilitation clinics in the US. While no price has been given, the company says it expects it to be competitive with high-end wheelchairs.