Demon Knights is one of the relaunched titles in DC's New 52 event, and so far, is one of the few which, while it does take place in the DC universe, it's not tied to the events of the releases so far.
That's because it takes place hundreds of years before the arrival of Superman in Smallville.
Our introduction to the Demon hero is rapid and clear, and the characters we've met so far are engaging and well-developed, which is good because the story is well-changed from the pre-relaunch version of the hero.
Jason Blood is an immortal. He was a knight of Arthurs court during the final days of Camelot, but has no supernatural powers himself. What makes him immortal, and extraordinary is that he is tied to the demon Etrigan whom he can summon at will to help him fight the forces of evil. Jason and Etrigan, however cannot communicate, like Jekyl and Hyde, they must find other ways to communicate.
In the past stories, Etrigan and Jason exist only beside the modern heroes of the DCU, with Jason's ability to summon the demon only manifesting in modern Gotham City. Here, however, Jason is adventuring in the Dark Ages of medieval Europe, and Etrigan is serving as his hidden protector.
There are hints that the woman traveling with them plays the two against each other, and a pair of mysterious and powerful figures who control dark magic and a clutch of dragons have noticed his chaotic presence in a world they are trying to cleanse.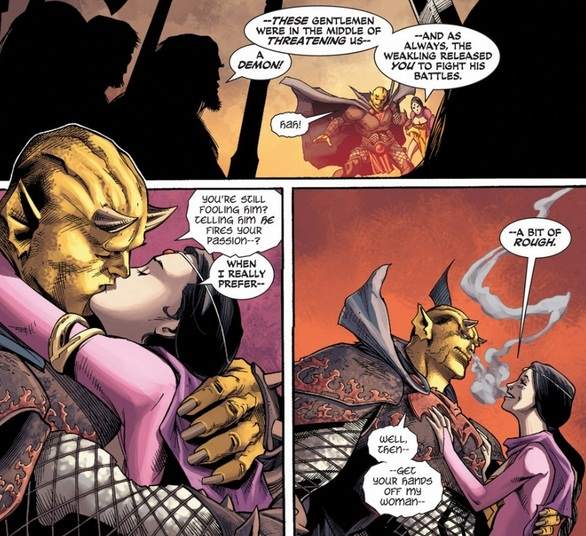 No way to know if Etrigan's story is planned to eventually merge with that of the 'present day' Justice League, but there has been no mention of his so far in the other titles, which seem to have a lot of background cross -over already.
In fact, the only connection we seem to have is the presence of the purple-hued, hooded lady in an early illustration. A figure who has appeared mysteriously somewhere in each New 52 book so far, and whose purpose may only be guessed at.
If you're looking for a DC sword and sorcery story to follow, or just want a story which is likely to have fewer crossovers and cross references, Demon Knights could be the line for you.
Demon Knights #1 is available now wherever you buy comics, including the ComiXology store.