Toymaker Parker Brothers has created a limited edition of five Lightcycles – yup, the ones from Tron – and is selling them for $35,000 a pop on ebay.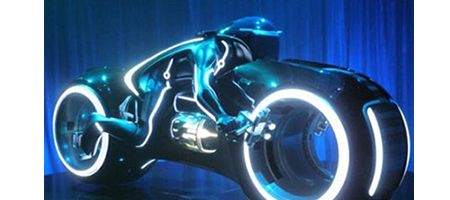 The bikes are apparently built to the exact specs of those from the movie. They're all basically black, but then each has an accent color – red, blue, yellow, green or orange – which glow neon from behind frosted plexiglass. A glow at the back aims to emulate the movie bik's light trail.
Parker Brothers has a bit of experience at this sort of thing already, having recently also sold a Batpod – Batman's motorbike from The Dark Night – on eBay. Unlike that one, though, the lightcycles are apparently completely legal for use on the roads.
The Lightcycle wheels are custom made 22 x 12-inch dual hubless wheels with custom made tires, and the frame is two-inch cold rolled and boxed hardened steel with carbon fiber/fiberglass bodies.
It's being built for everyday use, says Parker, and comes with a choice of a high powered electric motor or gasoline motor and transmission. There's even an authentic-looking Tron helmet, although this isn't actually DoT approved.
"Be the envy of everyone who sees this bike, as it will make motorcycles as you now know them seem like antiques on the road," says the company.
All bikes will be available within 6-8 weeks of contract, and buyers can even watch the process of their own individual bike via YouTube. With two and a half days to go, there have been 12 offers already, so it looks as if there might be a bit of a fight.