Watch out, guys: in, ooh, about ten years time, you'll need to prepare for a female invasion.
Little girls everywhere will be filled with inspiration later this year when Computer Engineer Barbie hits the shelves.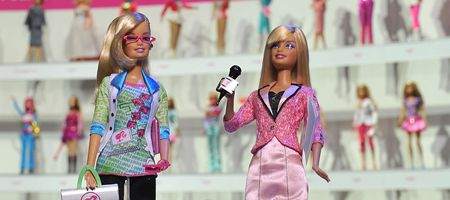 Chosen by popular vote, the new doll joins such inspirational role models as Bride Barbie, Ballerina Barbie and (our personal favorite) Burger Chef Barbie.
"To create an authentic look, Barbie designers worked closely with the Society of Women Engineers and the National Academy of Engineering to develop the wardrobe and accessories for Computer Engineer Barbie," says Mattel.
"Wearing a binary code patterned tee and equipped with all the latest gadgets including a smart phone, Bluetooth headset, and laptop travel bag, Computer Engineer Barbie is geek chic."
Shame all these women engineers were too ditzy to point out that Computer Engineer Barbie, like all the others, is structurally biologically impossible.
And, it has to be said, our own tester was less than enthusiastic.
"She looks so cool apart from the glasses and the hairstyle. I don't like the shoes either," she observed. "The BlueTooth thing makes her look dorky. My favorite Barbie is Rapunzel."
Also launched this week is News Anchor Barbie. Our picture illustrates a typical interview scene between the two: believe us, that's just what the TGD office looks like when we're hard at work.