Would you pay $27,000 for a flying machine built using scooter parts and a barbecue gas bottle? Yes? Then you've still got time to place your bid.
New Zealand inventor Rudy Heeman is selling his home-made sort-of-hovercraft on auction site trademe.co.nz.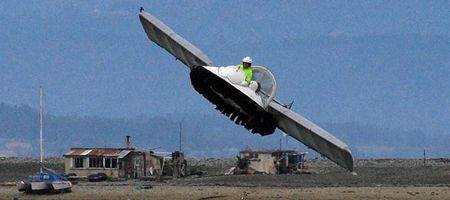 "This machine is fast and furious,it roars like a lion,and is not for the faint hearted. It is adrenalin pumping and exciting," says Heeman in the product listing.
"The sale includes driving/flying/riding instructions and a liability disclaimer which must be signed on pickup."
Heeman says he's clocked up 75 hours of flying time and has taken his wife and daughters out for jaunts.
He built the machine over an 11-year period using a rather eclectic collection of materials, including parts from his wife's car, a control lever from his daughter's scooter and anm old gas bottle.
"I brought machinery to make parts, built a bigger shed, learned fiberglassing, engineering skills, building skills, welding etc. And after this I had to learn how to fly!" he says.
The machine starts off behaving like a normal hovercraft – but once it hits 70kmh, it takes off on its (detachable) wings. It can reach 100kmh, and has a 1.8 liter engine and 225km range.
Apparently, the buyer won't need a flying license because the New Zealand authorities have – rather generously, surely – agreed to classify it as a marine craft. It doesn't even need seatbelts.
Bidding closes on 13 March. Heeman says he'd consider taking a classic Mustang in part-exchange, as his wife wants one for her birthday. She's earned it.