This week heaved a giant, fiery load of bad onto the music community. London riots destroyed massive amounts of physical music, Kanye West is making more controversial comments, and MXDWN is feeling a bit down.
The third night of London riots landed in Enfield, on the grounds of the large and only U.K. distribution center for Sony music, burning down the house and depleting the world of music of a heavy stock of tunes from all sorts of independent labels, including Matador Records, XL, Beggars Banquet, and 4AD.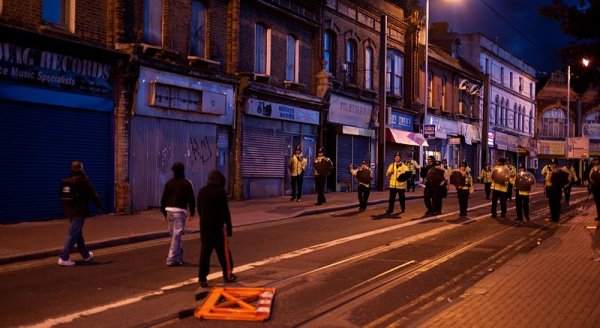 The center also housed the stock of PIAS distribution, so about 150 primarily independent record companies had their stocks completely destroyed in Tuesday's blazes.
The Arctic Monkeys are amongst the artists affected by the riot, as most of the CD and vinyl stock of their new single, "Hellcat Spangled Shalalala," has reportedly gone up in smoke.
Although they are trying to maintain their original release schedule, there is no doubt quantities are now limited due to the disaster. Although companies in the U.K. and Austria are working to replenish the CD stocks, record labels have stated there may be certain releases that will no longer be available.
On Thursday three teenagers were arrested for violent disorder and arson in connection with the riots and burning of the distribution center. While no injuries were reported, the fire came as an utter disaster to the world of music. Reportedly, 2.5 million CDs were destroyed in the fire. The three-day span of riotous arson was, as Time reports, the most concurrent fires London has experienced since World War II Nazi blitzkriegs.
Speaking of Nazis, guess who's in the news for comparing himself to Hitler? Why, Kanye West of course! Who else? At last Saturday's Bill Chive Festival, West compared himself to Adolf Hitler, saying that when he walks down the street, "people look at [him] like [he's] f**king insane, like [he's] Hitler."
This is just one of a bundle of recent controversial remarks made by West. After closing his show with audio clips from the late Amy Winehouse, he accused the media of mistreating and judging both he and Winehouse on similar spectrums, asking the press to "lighten up."
However misguided and crazy Kanye West's remarks may be, Turntable.fm still wants him.
The social DJ-ing site has spent the last few months rounding up big investors like Union Square Ventures, and has recently received financial backing from Kanye West and Lady Gaga.
Gaga and West have contributed to the almost $7.5 million series of investments to Turntable.fm, although their specific investment amounts are unknown. Recently receiving licensing from ASCAP and BMI, the financial support for Turntable.fm is looking good.
Other musicians causing a controversial stir in the music world this week are that of Odd Future (OFWGKTA). As a collective hip-hip group known for their perturbing lyrics and unsettling live performances, it is not a surprise that musician and journalist Steve Albini trashed their name. Albini's band shared a bus with Odd Future briefly, and he had much to say about Odd Future's vulgar and explicit ways.
Although Albini claimed to not be a fan of hip-hop, he reassured readers that his detachment and lack of accordance with Odd Future was not based on their music.
Well, there you have it. We lost some good music this week, and despite the major efforts being made to recover whatever may have survived the rubble, we mourn the major blow in the music community. As we should realize, fires will always be blazing and Kanye will always be narcissistic, but the music will never die!
Unplugging in Brief:
UK Warehouse for SONY Music and PIAS Burnt Down By Fire In London Riots – Destroying the stocks of almost 150 independent record labels, Tuesday's arson came as a giant blow to the music world.
Suspects Arrested in SONY/PIAS Warehouse Fire – 3 teenagers were arrested Thursday in connection to the SONY/PIAS fire.
Kanye West Shocks With Hitler Remark – At a recent festival, Kanye West paused his set to compare himself to a late dictator.
Turntable.fm Counts Kanye West and Lady Gaga as Investors – The future of Turntable.fm is looking bright, as music icons are jumping onboard to invest in the social DJ-ing site.
Steve Albini Comments on Odd Future – After sharing a bus with Odd Future, Steve Albini now wishes to share his observation of the young hip-hop collective.