For those feeling a little blue about the fleeting summer, let us reassure you that you have much to look forward to.
As bands begin to gear up for fall tours and festival shows, all you have to do is sit back and watch the tour dates roll on in. So, join your friends MXDWN to welcome a plethora of music acts to hit the road on tours that will be sure to provide good company over the next months.
The sixth annual Fun Fun Fun Fest is to be held November 4th to 6th, in Austin, Texas. Housing over 120 acts over the three-day span, this year's fest has the largest lineup to date. So large in fact, that the festival has been moved from its usual Waterloo Park, to the much more spacey Auditorium Shores in order to accommodate the hefty music acts on the bill.
Headliners include Slayer, Public Enemy, Passion Pit, Odd Future, Henry Rollins, the Damned, and Major Lazer.
Also a great facet of the upcoming fun is the reunion of Glenn Danzig with his former band mates of Samhain and Doyle from the Misfits. Together they form Danzig Legacy, and they are a highly anticipated headliner of this year's fest.
The entertainment will be organized into 4 stages by genre – Orange stage with indie/pop acts, black with metal and punk rock, blue with rap/hip-hop, and yellow with comedy and spoken acts. The day-to-day schedule will become available in September, so stay tuned. Tickets are flying off the market- 2-day passes and the early bird 3-day passes are sold out. However, more 3-days and Pretty Important Person passes have recently become available.
This year's Voodoo Experience lineup is nothing short of its usual diverse and awesome variety. Rather unanticipated was the announcement that the recently reunited band, The Raconteurs, will be performing at Voodoo. Only weeks ago the band announced their return with just one scheduled concert date. Voodoo's lineup will also feature Fatboy Slim, TV On The Radio, Soundgarden, Blink-182, and local acts from the NOLA area. See the festival's website for lineup and ticket details.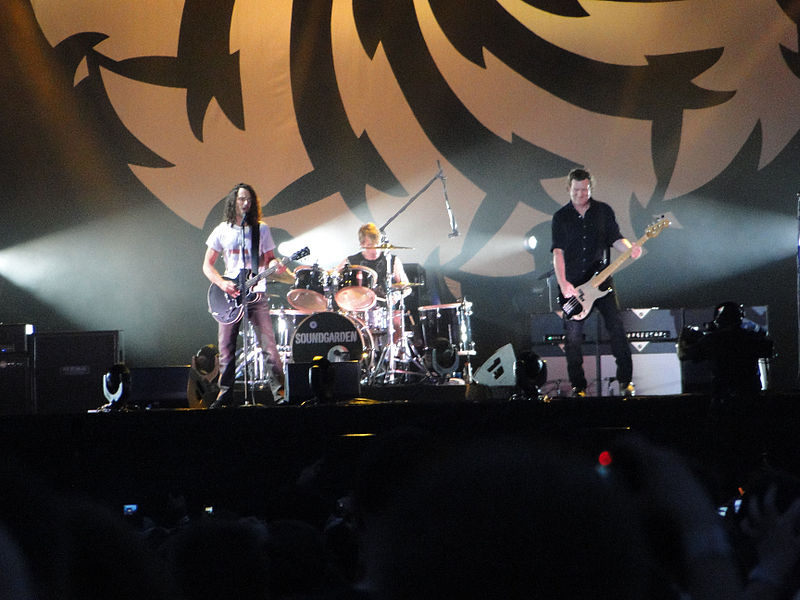 Portland county rock band Blitzen Trapper has announced a fall tour in support of American Goldwing, their latest album to be released September 13th.
Alongside Dawes, the two bands will kick off their 6-week tour on October 7th in Petaluma, California. As a promotion for the tour, both bands plan to release their older music for free download on their websites.
Jay-Z and Kanye West's tour in support of their much anticipated collaborative album, Watch the Throne, has been rescheduled. Originally planned to commence in Detroit on September 22, the tour is now scheduled to run from October 29th through December 18th. Watch the Throne will be available on iTunes August 8th, and in stores August 12th.
In other tour news, Kings of Leon has cancelled all remaining U.S. shows due to "vocal issues and exhaustion." Their cancellation follows a recent botched Dallas performance, in which lead singer Caleb Followill left the stage abruptly due to what the band reasoned as heat exhaustion and dehydration. KOL plans to finish up their tour in late September.
With all the musical fun and craziness that accompanies live shows, the element of danger is always lurking. The 8th annual "Unity in the Park" festival in Cleveland hosted an outdoor George Clinton concert last weekend, for a night of funky fun. The funk, however, was interrupted when shots rang out in the crowd shortly after the show's end.
A large fight broke out near Luke Easter Park as the festival was winding down, escalading to a drawn and fired handgun. The gunman fired into the riotous crowd, hitting three men and one woman. All four wounded people were rushed to the hospital, where one 16-year old victim who suffered a gunshot to the head later died. The 20-year-old female victim suffered a gunshot wound in the neck, and the 2 other male victims were wounded in their left legs. No arrests regarding the shooting have been made.
As summer fades, the music only becomes more vivid! Keep up to date with tour announcements with MXDWN, and remember to stay safe.
Unplugging in Brief:
Fun Fun Fun Fest 2011 Lineup Announced – Over 120 acts are scheduled to play over a 3-day span, including Slayer, Henry Rollins, Passion Pit, and Public Enemy.

The Raconteurs, TV on The Radio, Fatboy Slim Join Voodoo Experience Lineup – The New Orleans Voodoo Experience has added a diverse spread of artists to this year's lineup, including the recently reunited band The Raconteurs.

Blitzen Trapper Announces Tour With Dawes – In light of their upcoming album, Blitzen Trapper and Dawes are hitting the road for a fall tour, and also releasing some free stuff to download.

Jay-Z, Kanye West Tour Rescheduled – The recent collaborative efforts of Kanye and Jay-Z has resulted in a tour and upcoming album. The tour has been rerouted and will commence this October.

Kings of Leon Cancel Remaining U.S. Tour Dates – According to Kings of Leon, the band is exhausted and needs a break. Don't worry, though. They'll be back.

Four Shot Outside Cleveland-Area George Clinton Concert – After a huge fight broke out in the crowd, a gunman fired shots, wounding 3 and killing 1.