Electronic Arts, one of the few big-name companies that didn't shun Tiger Woods during his sex scandal, says it still sees a big market potential for its line of Tiger Woods video games.
Tiger Woods returned to the professional links today for the first time since his widely-publicized sex scandal broke. One of the key business partners that didn't walk away from Woods is EA.
"We're seeing strong interest based on pre-sales" for Tiger Woods PGA Tour 11, due to come out in June, said EA's president Peter Moore in a CNBC interview.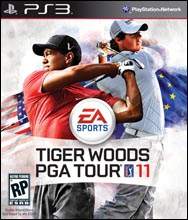 Moore added that 800,000 unique players have logged into an open beta version of the game already and more than 2 million rounds of golf have been played.
Woods returned to the professional golf scene today at the start of the Masters tournament. His opening shot at 1:42 PM Eastern time was likely one of the most-watched live golf shots of all time.
In addition to Woods's comeback, the Masters tournament is noteworthy because it is the first major national sporting event to be broadcast on TV in 3D. All the major cable companies are airing coverage in some form from the tournament on special 3D channels for those early adopters.
Tiger Woods PGA Tour 11 will be available June 8 for a variety of different platforms.