Sony's launched a head-mounted display that gives a 3D 'personal theater' for video and games.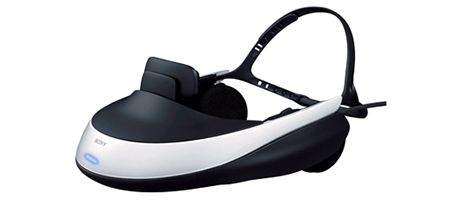 The HMZ looks like a visor that's slipped down over the face. A 1280 x 720 0.7-inch OLED panel is mounted in front of each eye, giving the impression of a 750-inch HD screen seen from a distance of 20 meters. There's a 45-degree horizontal viewing angle.
The company says it offers high contrast, good color reproducibility and a fast response, minimizing blurriness.
There's 5.1-channel surround sound, delivered via the incorporated pair of headphones – and this offers different modes, including 'Cinema' for movie theater-like acoustics and 'Game' for reproducing a clear sense of direction – which can be vital for game-playing, says Sony – as well as 'Standard' and 'Music'.
It comes with a processor unit for connection to other devices, with a built-in HDMI output switcher enabling both the display and a television to be connected to the processor unit at the same time, allowing the user to switch between devices.
The $800 device will go on sale in Japan on November 11; European and US launches will follow, possibly in time for the holiday season.
One presumes that Sony has solved the problems associated with the infamous Nintendo Virtual Boy head-mounted 3D display, which gave its users crippling headaches. Nevertheless, the company warns that it shouldn't be used by under-15s or while on the move.
It's hard to tell at this stage how popular the headset will be, given that it's designed for solitary viewing. At this price especially, it could end up as something of a niche product – albeit a very clever one.