Chicago (IL) – Traditionally, January and February have always been slow periods for the gaming industry, but new data suggests a rebound. It only took couple of games to nudge the ailing console sales into a higher gear and revitalize interest in both the PS3 and Xbox 360. New releases like Killzone 2 and Yakuza
3, which launched earlier this month, are already showing a positive impact on
not only game sales but also PS3 hardware. But it was last Friday's launch of
Resident Evil that have sent the sales up of both PS3 and Xbox 360.

The latest sales data from VG Chartz
shows the positive effects of these software releases on both
the PS3 and Xbox 360 hardware. Just in time, I might add, as the sales of
consoles and software in January and February slowed down. Several new
games which hit store shelves this month have each shipped
over 100,000 copies, including Yakuza 3, Killzone 2 and
Resident Evil 5.
Further PS3 price cuts and the upcoming Final Fantasy XIII demo
(scheduled for April) could give PS3 enough oomph to match the sales of Nintendo's Wii in the mid-term, though Nintendo's underdog console remains the absolute leader in gaming spaces.
Wii nearly matches combined PS3 and Xbox 360 sales
According to the VG Chartz, Nintendo's
Wii holds a 48.9% share of the console market with 47.57 million units
sold so far (Japan: 7.88M, US: 21.83M, Other: 17.85M), meaning that Wii
sales nearly equals the combined unit sales of PS3 and Xbox 360.
Following Wii
is Microsoft's Xbox 360 with a 29.7% market share on sales of 28.91
million units (Japan: 0.98M, US: 16.58M, Other: 11.36M). Sony's PS3 is
still catching up but isn't distant third anymore: PS3 took 21.4% share
of the console market with 20.81 million units sold (Japan: 2.93M,
US:7.98M, Other: 9.90M — see where a Sony exec said PS3 is destined to finish first).
On the portable gaming front, Nintendo DS is
nearing the milestone 100 million mark with 99.36 million units sold so
far, followed by Sony's PSP which sold 45.8 million units. VG Chartz
doesn't track sales of the iPod touch which emerged as a third viable
mobile gaming platform, and Apple doesn't provide the data separately from
overall iPod sales — but it is estimated that there are at least
20 million iPod touch units in the wild.
Resident Evil 5: The Zombie basher pushes hardware sales
The latest installment in Capcom's
Resident Evil survival horror series launched this past Friday to an
unprecedented success. Since the game has yet to see its first full
week, sales cannot be compared with other weekly game sales. On Friday alone, the game
sold 278,000 copies during its launch in Japan. By week's end, it
topped 350,000 copies in total, enough to dethrone best-selling Yakuza 3
from Japanese charts — which sold 60,000 during the week. Resident Evil 5
is now considered the killer title, one that will help push hardware
sales — and particularly PS3. It is one of the longest-standing and best-selling of the PS3 series to date.
Of
the 278,000 Resident Evil 5 copies sold during launch day, PS3 version
sold an astounding 222,000 copies, while Xbox 360 picked up the remaining 56,000
copies. [Note that Resident Evil 5 figures include only Japan sales as
we await the game to debut on U.S. shores this coming Friday.]
The PS3
version of the game outsold the combined Resident Evil 4 for Gamecube
(117,000 copies) and PlayStation 2 (145,000 copies) on their respective
launch days. What's more, even the Xbox 360 version of the game outsold
Nintendo versions of Resident Evil 4 (27,000) and Resident Evil
Umbrella Chronicles (53,000).

RESIDENT EVIL 5 REVITALIZES THE INDUSTRY
The latest installment of the incredibly popular zombie basher series brings an eerie atmosphere, a chilling story and striking graphics. It launched to a record 350,000 copies sold during the opening weekend in Japan alone. The game hits U.S. shores this Friday (March 13).
Read on the next page: Global top 5 games chart, Killzone 2, Halo Wars
International top 5 charts
While it's already looking strong, Resident Evil 5 has a lot of catching up to do with Yakuza
3 on a global basis. In addition, Resident Evil 5 has yet to overtake
Sony's long-awaited Killzone 2 shooter that could cross the 1 million
copies-sold mark globally by week's end. The game absolutely leads the pack
across all formats and territories with 750,000 verified copies sold so far.
This makes Killzone 2 the third fastest-selling PS3 game, behind Grant
Theft Auto 4 and Metal Gear Solid 4 — and it's only been on sale for a
week.
Killzone 2 is followed by Sega's Yakuza 3 which arrived at the same time to push nearly half of Killzone's numbers in the first week of sale. Nintendo's Wii Sports and Wii Fit are still doing extraordinarily well and are behind Yakuza
3 in global rankings with 320,00 and 260,000 weekly unit sales
respectively. Both titles have sold an astounding 60 million units
across the globe so far (Wii Sports: 43.3 million, Wii Fit:16.5
million).
Koei's Dynasty Warriors Strikeforce for the PSP, released last
week, rounds out the international top 5 charts with 223,000 copies sold. Note
that Xbox 360 titles didn't make it into top 5. Halo Wars for the Xbox
360 currently sits at #6 slot. While it might overtake Dynasty Warriors
Strikeforce, it has to pick up some sales since it moved 170,000 copies so far. Furthermore, the game is RTS-based, which doesn't guarantee wide audience.
Killzone 2: A PS3 killer title is well worth the wait
Killzone
2 has to be one of the most anticipated PS3 titles to date. The game's arrival last week was met with some initial suspicion since Sony has
been working on the game ever since the PS3 hit the market. This led many to
believe that the game would be vaporware — especially when it was
discovered Sony teased the press with edited screenshots and
videos. Early reviews, however, say the game is well worth the wait. Reviewers rave about the technical excellence and incredible graphics
engine, leading many to conclude that Killzone 2 is first PS3 title
that Xbox 360 would have difficult time pulling off.
The effects of
Killzone 2 on PS3 sales are visible, but not game-changing. Early
reports from retailers suggest a "modest" impact on PS3 sales — which
was expected since the game sells primarily to the existing console
owners. But with 750,000 copies that flew off the shelves during first
week, Killzone 2 is already the third fastest-selling PS3 title to date
and currently best-selling game on all platforms.
Halo Wars: Could be better
RTS-based
Halo Wars for the Xbox 360 won't be replicating the success of previous
two Halo shooter titles. The game debuted last week and went on to sell
around 170,000 units so far across the globe. While the figure doesn't
compare with the Resident Evil 5 or Killzone 2 numbers, it is still a nice
achievement — especially for an RTS game as these usually have a limited audience who prefer playing RTS games on desktops, not consoles.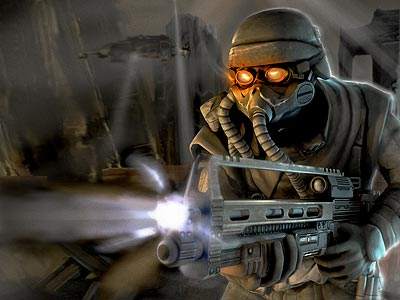 KILLZONE 2: THE KILLER TITLE
Contrary to the popular belief, Killzone 2 wasn't vaporware after all. It sold 750,000 copies in the first week of sale, and has emerged as the #1 best-selling game worldwide on all platforms.