Shrouded behind a wall of black curtains, on the long walk into the Adult Entertainment Expo you may hear the occasional whip over the loud rock music, or the sweet smell of latex wafting from the crowd. 


The anticipation is high as freaks, fetishists, and the occasional nerdy CES straggler head over to the Sands Las Vegas to check out the latest and greatest in sex, movies, and of course, technology.
When you walk into the expo, it looks like a regular trade show: huge booths with ceiling hung signs and carpeted booths.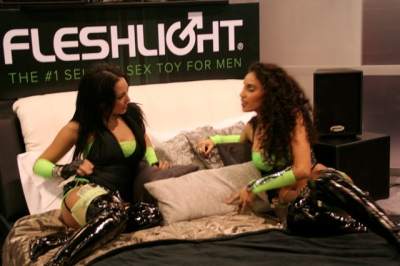 The only difference is that these signs feature naked ladies and you may be rubbing elbows not with men in suits but rather submissives and half dressed fairies in the crowd.
Hand sanitizer may, er, be necessary.
The Adult Entertainment Expo is all about showcasing the latest and greatest – the hottest girls, the best quality movies, and the newest toys. 


The porn industry falls perfectly into this role as it has long since been described as a trailblazer when it comes to new technology.
Helping tip the scales in favor of VHS over Betamax and an early adopter of Internet e-commerce, the porn industry has historically been on the cutting edge.
But this AEE marked a different time – a time of uncertainty for the porn industry. Uncertain about its money making future as pirating plagues the industry. Uncertainty about the newest technology.
As the exhibits at the Consumer Electronics Show next door feature new media consumption technology like 3D televisions and mobile technology with built-in app stores, the technology at AEE seemed to be the same as last years.
Many of the toys marked as new technology were in fact, old technology. 


Take, for example, the "Thrillhammer," part of the Teledildonics (seriously) field of Internet controlled sexual experiences. 


Your partner controls the speed and movement of the dildo connecting you in a virtual simulated sexual experience.
This technology was based on medical technology that allows doctors to perform surgeries like laser eye operations over the Internet.
Sure, we all agree the Thrillhammer is a novel use of medical technology, but it's hardly anything new.
The porn industry is also facing problems in the mobile computing field. 


For example, an overwhelming trend at CES was the adoption of a mobile phone that can do basically everything, creating a seamless experience between home computer and mobile device. 


The idea is to create technology strong enough to download movies from an app store and stream them in high definition 1080p on your smartphone. 


Companies like Nvidia and LG announced "super phones" with the ability to do this, but where does the porn industry fit in? 

With more and more marketplaces that don't allow adult content, porn purveyors are facing an uphill battle to break into this space. 


On the other hand, companies like Digital Playground and Pink Visual are creating content streamable across multiple platforms like the iPad, a smartphone and of course, online. You just can't buy any of it in the apps store.
One of the most talked about emerging technologies was the 3D TV for super rich media consumption. 


Yes, the technology is still limited in the way it's filmed and consumed, forcing videographers to shoot content from about 12 feet away from the actors and requiring consumers to wear those geeky glasses, neither of which are conducive to a sexy time.
In an interview with Pocket Lint, Matt Morningwood of Pink Visual noted, "To film in 3D you have to be about 12 ft. away to get the best effect, and that's not good for porn. At the moment it's too much headache for not much payoff."
Until a time when 3D TVs don't require glasses and perhaps filming is made easier, it's going to be hard for the porn industry.
The porn industry has big shoes to fill. 

Historically, people look towards the porn industry for new technology, but perhaps in this time of uncertainty, porn execs are erring on the side of caution.
And to be honest, how much money can these studios really spend on adopting new technology that may or may not work out? 

With piracy running rampant and free content flooding the Internet, 3D will either be a differentiating money maker or just a money vacuum.
After some technology failures like the porn industry's adoption of HDDVD over Blu-Ray, perhaps porn execs are taking their time when choosing which technologies are truly worth adopting. 


Clearly, Digital Playground is taking its time to adopt 3D technology until a time when 3D is more pervasive and better for porn, whereas Pink Visual hopes that its adoption will be a game changer in a time when it's hard to get people to pay for porn.
Regardless, the porn industry will continue to be early adopters of new technology, even if its not as early as in the past.