If you're really good at the Madden NFL video game, chances are that won't really equate into you becoming a professional football player. But when it comes to Gran Turismo and professional racing, that's a different story.
Polyphony Digital, the developer behind the Gran Turismo series, has opened up a unique contest called GT Academy, in which the top winner gets a shot to train to become a real-world pro race car driver.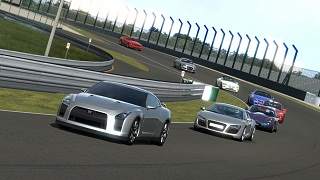 The run to become the next Gran Turismo-trained professional driver won't be an easy one. Players must first sign up for an online trial, and the 32 across the country with the best performance will be invited to the national championship.
Once whittled down to the top 16, competitors will compete in a series of real-world challenges. And the man or woman who wins it all will get a very unique opportunity – the ability to train with some of the country's best drivers to learn what it takes to become a real pro.
The competition among the 16 GT Academy finalists will be filmed as part of a PlayStation Network reality series set to debut next year. In addition to being free on the PSN, the series will also air on the SPEED channel.
Even for those who don't get behind the wheel in a real race track, there are hundreds of prizes up for grabs. Winners during the online trials will win a downloadable copy of Gran Turismo for PSP, and other prizes along the way include Gran Turismo 5 posters, official GT racing wheels, GT5 Collector's Edition bundles, and PS3 systems.
So if you think you have what it takes to compete, get ready because the online trials open up on December 20. Unlike Gran Turismo 5, this contest is unlikely to be delayed. At least we hope not.