Angry Birds is adding geo-location features and the Nook Color is the first to get them.
Rovio has rolled out a new update for its hit game, available exclusively to users of what was once a dedicated e-reader device from Barnes & Noble.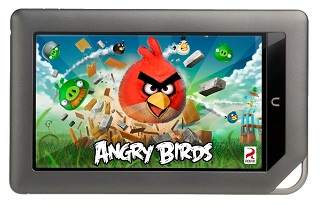 The feature, called Mighty Eagle, recognizes when players enter specific locations – like a Barnes & Noble store, for example – and unlocks new content or functionality based on the location.
For instance, if it recognizes that you're in one of the bookstore chain's retail locations, you will be use the Mighty Eagle at no charge.
The Angry Birds app for Nook Color – which is powered by Google's Android operating system – is a specialized app, different from the game that all other Android users have access to.
This specialized version of the game costs $2.99.
This is the latest update for the Nook brand in its attempt to move away from the dedicated e-reader category and appeal to the multi-function tablet crowd instead.
The function of the Nook Color changed in a big way when B&N decided to restrict the software and give users unlimited access to the Android Market and all of Android's other features.
As part of this Angry Birds announcement, B&N retail locations are also offering stickers and temporary tattoos based on the game for a limited time.