Facebook has updated its homepage with a dual-view news feed. A summary view now displays the "most interesting" activity over the past 24 hours, while a "real-time" stream offers instant access to ongoing updates.
"While seeing real-time activities is extremely valuable, we also want to be sure you don't miss other interesting content," said Facebook developer Raylene Yung. "After hearing feedback from many of you and exploring some new designs, we decided with today's changes to move what you used to see in Highlights from the right-hand side to the News Feed view in the main column so you can more easily engage with both views."
According to Yung, Facebook has also added information back to the News Feed, including photo tagging, page fan updates, RSVP events and the addition of new friends.
Yung attempted to head off the inevitable volley of user complaints by emphasizing that the update would help make Facebook a more "valuable experience."
"Like you, we know it can be disruptive when things are moved around, but we hope that these changes make Facebook a more valuable experience for you. We put a lot of thought into all the changes we make to the site and do a lot of testing before releasing anything," added Yung.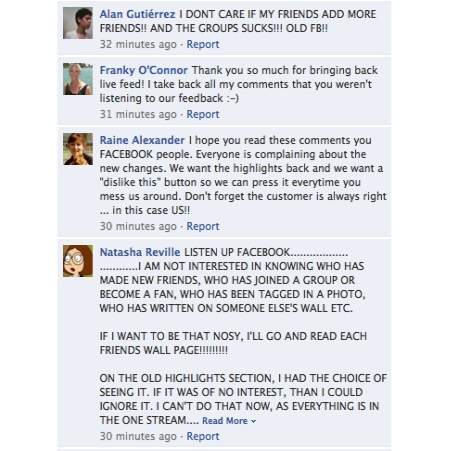 Nevertheless, a number of users have already expressed their disappointment with the homepage revisions.
"I don't want to see that my friends new add's either. It's wasting space on a freaking home page," wrote one member.
Another user threatened to leave Facebook if the latest changes weren't reversed.
"This is absolutely awful…The change is appalling…the live feed does NOT include everything…If Facebook doesn't sort this out I am leaving!"
A third Facebook member said she was "horrified" by the alterations to the homepage.
"If I wanted to be on Twitter I would be on twitter. I hate Twitter. I am horrified by the new changes you have made AGAIN without really informing anyone – only your fans which is an opt into! Why do you do this in such a dictatorial way. I feel really uncomfortable with the level of information you have decided i need. It's icky. Please listen and tone it back, eh?"