Microsoft has just wrapped up its big pre-E3 press conference and while Kinect was yet again the focus, this time it's actually cool.
The press conference opened with what is likely to be one of the biggest – if not the biggest – games of the year: Call of Duty Modern Warfare 3. Both of its predecessors set sales records, so there is understandably a lot of attention to this game.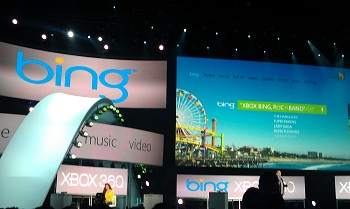 But in addition to the requisite Call of Duty esteem sure to apply to this latest installment, there is something else gamers are curious about – the premium version of the game's online service that – for the first time – will tax users a monthly fee.
Microsoft said that 2010 was the "biggest year" in Xbox's history, and it wants to eclipse that in 2011. So what will it do to make that happen?
Kinect Grows Up
One of the biggest focuses at this year's press conference, just as it has been for the last two years, was Kinect. The difference this time, though is we are actually seeing the peripheral used in "core" games.
Other ambitious games like the indie hit-turned Xbox 360 exclusive Minecraft, as well as a virtual recreation of Disneyland, are coming to Kinect.
The largest reaction from the audience came when Microsoft demoed voice-controlled gameplay in the upcoming Mass Effect 3 sequel, as well as a new game in the Tom Clancy's Ghost Recon franchise. The crowd was cheering almost as in disbelief during these demonstrations.
And that was only eclipsed by the announcement of a Star Wars Kinect title, which fans have been clamoring for since the launch of the motion camera, if for no other reason than the opportunity to move your hands about to summon the force as though you're a true Jedi.
Of course, the expected casual games, like Sime 3 Pets, Family Game Night 4, Dance Central 2, and several EA Sports titles will also be getting continued and enhanced Kinect support as well. But the big news is games like Mass Effect 3 and Ghost Recon adding support for Kinect.
Microsoft is also launching a new feature called Kinect Fun Labs which, for the first time, will open up the motion accessory to everyone, allowing any budding developer to create a new experience with Kinect.
Enhanced Non-Gaming Content
The Xbox 360 has been on a push to expand its reach beyond traditional gaming content. It started as the first console to have a Netflix streaming app and has expanded to hundreds of thousands of movies, TV shows, and live ESPN sports video, among other things.
This fall, even more content will be added. In a big way. For starters, a new Youtube app will be added the Xbox Live, allowing users to search through and watch all of the millions of available clips.
There will also be a new "Bing" channel that lets users search through Netflix, Hulu Plus, and the Xbox Live Marketplace by simply speaking your search out loud (e.g., "Lego," "X-Men," "Star Wars," etc.).
In addition, perhaps the biggest news is that users will be able to watch live broadcast TV from their Xbox 360 – something no console has ever done before.
All of these new features will come via a new firmware update to the Xbox 360 this fall.
The Only-On-Xbox Games
Microsoft also showed off footage of Gears of War 3, sure to be a smash hit sequel of the Xbox 360-exclusive series. The company is also remastering the game that put Xbox on the map – Halo. The HD remake is due out in November.
The ambitious Forza racing series is also getting a refresh, with Forza Motorsport 4 – which we must say looks pretty darn impressive – due out in the coming months as well.
Then there was the intoxicatingly unique Sesame Street game designed for younger and older gamers alike. And not to be outdone, gaming legend Peter Molyneaux introduced a new iteration of his ultra customizable, create-your-own-story Fable franchise. There's also a new 360-exclusive Tomb Raider game on the way.
This is just the beginning of what will no doubt be a massive E3. The other most anticipated media events, from Sony and Nintendo, will take place tonight and tomorrow morning, respectively.
Stay tuned to TG Daily for all the latest breaking E3 news and insight.