According to some predictions, is going to dominate throughout this year. One of the main reasons for that growth is guess what – a better technology, of course! However, if virtual reality continues to grow in popularity, the online casino industry may face many regulatory hurdles. So, let's see if iGaming industry is ready for VR?
Gambling Jurisdictions
We're all aware of the fact that there are certain gambling jurisdictions that can't wait to prohibit the use of virtual reality for online gambling completely, while other casinos are more likely to carry out some restrictive regulations. As a result, such measures could impasse the development of the market and limit the customer reach.
Online Casinos
Some online casinos, on the contrary, have already started using VR technology effectively. For example, SlotsMillion Casino designed the first ever virtual casino and it's been one of their biggest attractions so far. Those who have an can experience full engagement in this futuristic online casino lobby. Most importantly, users can actually walk through the casino floor and play their favourite slots, which is as close as one can get to being in an actual land-based casino.
This VR universe will make casino members only play longer, which gives other online casinos a motivation to compete with field and enter the market sooner.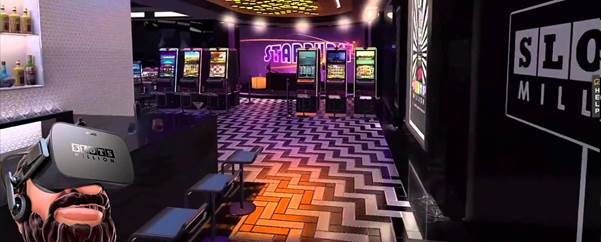 Software Providers
Likewise, famous software suppliers have recognised the importance of exploring VR too and, therefore, started to develop virtual reality slots. In fact, there are quite a few well-known online slots that can be played in VR, like Starburst slot, Gonzo's Quest slot, and Scarface slot.
Anyone who has ever tried spinning the reels in VR mode, can tell you these slots offer a completely different gaming experience, in comparison to playing the old-fashioned, regular releases. The thing is, once you put your headsets on, you feel like entering an alternate reality. These devices allow you to see a 360-degree panoramic view and respond to how the users react in real-time.
The Future of VR Technology
Regardless of the remarkable expansion of VR headsets during the last year, it could still be a while before , as developing a VR casino takes a lot of effort, time and money. For most players, the additional benefit of a more immersive gaming experience just isn't worth it yet. Let's just wait for software providers to become more available on these devices and, hopefully, more households will be willing to make such large investment.